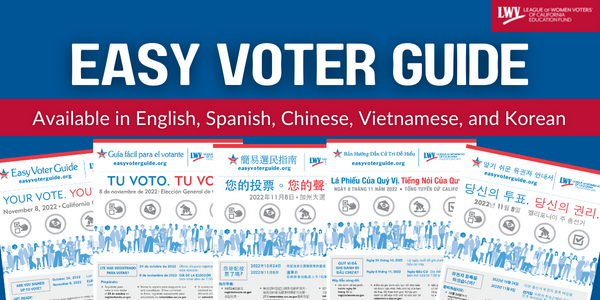 Our Easy Voter Guide helps the election makes sense. Available languages include English, Spanish, Chinese, Vietnamese, and Korean.
What is in the Easy Voter Guide?
In this "general" election on November 8, 2022, voters will:
Choose a Governor and other representatives for national, state, and local government.
Decide if judges on the state's Supreme Court should keep their positions.
Vote "YES" or "NO" on 7 proposed state laws for California.
You will also be asked to decide on local candidates and possibly local ballot measures. What's on your ballot depends on where you live.
Every registered voter will get a Voter Information Guide in the mail that lists everything they can vote on. You do not have to vote on everything. Your vote still count even if you choose to skip some things on your ballot. View our Easy Voter Guide to help you understand the 7 proposed state laws (propositions):
Prop 1 – Reproductive Freedom
Prop 26 – In-Person Sports Betting in Tribal Casinos
Prop 27 – Online Sports Betting
Prop 28 – Funding Arts and Music Education
Prop 29 – Kidney Dialysis Clinics Requirements
Prop 30 – Income Tax on Millionaires for Electric Cars
Prop 31 – Yes or No to Banning Flavored Tobacco Products
Visit VotersEdge.org to see what will be on your ballot. It's easy! Just enter your home address.
The Easy Voter Guide is a collaboration of the League of Women Voters® of California Education Fund and the California State Library.