Election Archives of LWV Cupertino-Sunnyvale
Information saved from past elections



June 5, 2018 - California Primary Election
Looking for good sources of information while you're getting ready to vote?  
Here they are:
1. Voter's Edge Website
The California League's election website, 
Voter's Edge California,
 is a comprehensive, nonpartisan online guide to elections covering federal, state, and local races in California.
Voter's Edge is your one-stop shop for election research: 
Access your personalized ballot for only your districts, just enter your address on the first page, 
Get in-depth information on candidates,state-wide propositions, and local measures  including who supports them.
View candidate info; including biographies, top priorities, answers to questions, photos, policy videos, endorsements, and detailed information about who funds their campaigns.
Get unbiased explanations of propositions and local measures, including who supports, opposes, and funds them
Check where, when, and how to vote, including information on your local polling location
 ___________________________________________________________________________________
2. Propositions - Vote with the League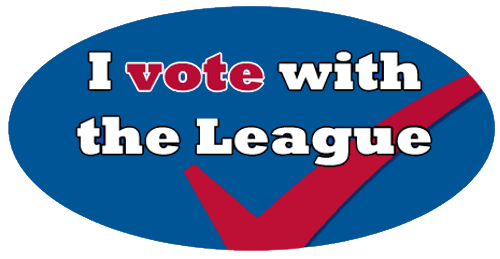 Yes, we are totally nonpartisan regarding political parties and candidates.
But, we do take positions on issues. Once we have a studied position on an issue, we take action and advocate for or against particular policies or laws.
If you'd like to see our recommendations about the five Propositions you'll be voting on, go to http://cavotes.org./vote/elections/ballot-recommendations.  For each Proposition, click on Read more to find lots of information about the League Positions that have informed our recommendation.
 ___________________________________________________________________________________
3. Propositions - Nonpartisan Pros & Cons
The League's  Pros & Cons  site provides a nonpartisan explanation of state propositions, with supporting and opposing arguments. The arguments come from many sources and are not limited to those presented in the Official Voter Information Guide. 
Leagues, including the Cupertino-Sunnyvale League,  provide live presentations of the Pros and Cons of each ballot measure. A recording of a recent presentation can be found on YouTube.
The June 2018 ballot will include votes on Propositions 68, 69, 70, 71, and 72.  At cavotes.org you can find links to online and downloadable  versions that provide information for each Proposition: 
The Question
The Situation
The Proposal
The Fiscal Effect
What a YES or NO Vote Means
What Supporters Say
What Opponents Say
Links to Official Support & Opposition Sites
___________________________________________________________________________________
4. League-Sponsored Candidate Forums
As part of its mission to provide non-partisan political information, Leagues provide live forums where all candidates for an office are invited to answer questions from the public.
For the June 6 2018 election, the five candidates for Santa Clara County Sheriff participated in aspecial election forum presented by the Santa Clara County League of Women Voters.   Recorded May 16, 2018 at the Cupertino Community Hall, it's available on YouTube.
 ___________________________________________________________________________________
5. Easy Voter Guide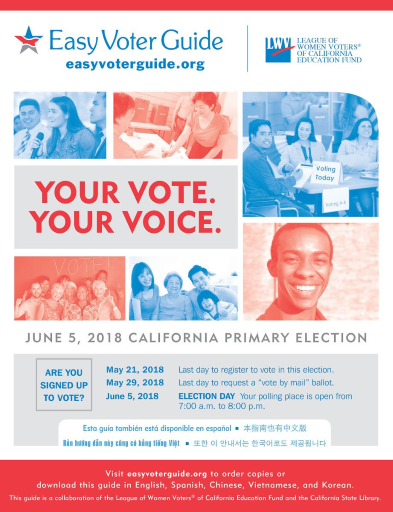 The League's Easy Voter Guide provides voters who are new, or just very busy, with condensed, user-friendly, nopartisan infomation about statewide elections. It covers
State propositions and
Information about California state and federal offices in this election.
The Easy Voter Guide is available online in:
Or you can pick up a free printed Easy Voter Guide from your public library.
 ___________________________________________________________________________________
6. California Voter Information Guide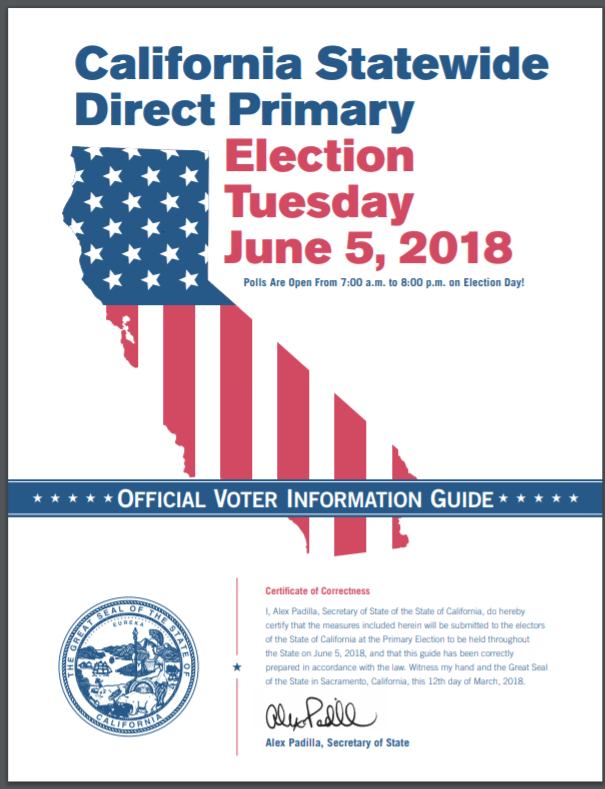 The
 Official Voter Information Guide
 for the June primary, published by the California Secretary of State, is now available online.  
The State of California has already mailed it in hardcopy to all registered voters, at their registered address. 
Check out the California League's Position on the Propositions
As a non-partisan organization, our Leagues never take positions on parties or candidates. However, the League does take positions on ballot measures, based on our current policy positions and League principles. These policy positions and principles are developed based on grassroots member study and consensus. See the California League of Women Voters' positions on these measures. 
If approved, this bond measure would authorize California to issue general obligation bonds, with the money used to finance:
state and local parks,
water conservation measures,
water reliability to disadvantaged communities, and
flood protection projects. 


If approved, this constitutional amendment would:
require that existing transportation revenues can only be used for road and transportation improvement projects. It applies to what we pay:

at the pump and
when we register our vehicles
prohibit the state legislature from using these revenues for non-transportation purposes.
not increase taxes.


If approved, this constitutional amendment would, beginning January 1 2024:
Create a new fund, called the Greenhouse Gas Reduction Reserve Fund, that would have different rules for appropriation than are in current legislation
require that two thirds (66%) of legislators in both state houses must approve the first appropriation of any money collected from the sale of Cap-and-Trade allowances.
 Background: California has a history of climate change legislation going back over 30 years. It includes: 
If approved, Proposition 71 would provide that:
any initiative that is approved would take effect 5 days after the Secretary of State certifies the election results.
Background: Currently, an initiative that is approved takes effect the day after the election, unless the measure provides otherwise. Election results are not officially certified until five weeks after the election. While most election results are clear shortly after election day, that is not always the case. 
 
If approved, this measure would allow:
an exclusion from additional property taxes for construction or installation of rain water capture systems. 
Background: Rainwater capture systems catch, store and use otherwise wasted rain water for landscape irrigation and similar uses, saving more conventional water for personal use. 
November 2016
  General Election
August 2016 Special Election,
  Sunnyvale City Council seat 4: 
June 2016 Primary Election,
  17th Congressional District: