"
A well informed citizenry is the best defense against tyranny."
                                 ~ Thomas Jefferson

Since 1919 the women (and men!) of the League of Women Voters have volunteered their time to ensure that voters have access to the information they need to make an informed decision.
 ___________________________________________________________________________________
Information for the Primary on June 5, 2018 
1. California Voter Information Guide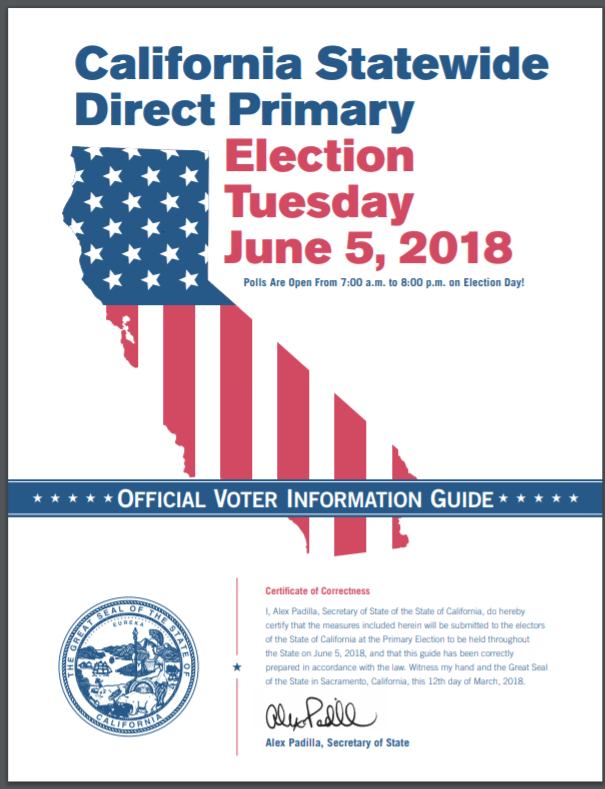 The
Official Voter Information Guide
for the June primary, published by the California Secretary of State, is available online now.
 Between April 26 and May 15 the state of California will mail it in hardcopy to all registered voters.  
2. Voter's Edge Website
The California League's election website,
Voter's Edge California
, is a comprehensive, nonpartisan online guide to elections covering federal, state, and local races in California.
Voter's Edge is your one-stop shop for election research: 
Access your personalized ballot for only your districts, just by entering your address.
Get in-depth information on candidates and propositions, including who supports them.
View candidate info; including biographies, top priorities, answers to questions, photos, policy videos, endorsements, and detailed information about who funds their campaigns.
Get unbiased explanations of propositions and local measures, including who supports, opposes, and funds them
Check where, when, and how to vote, including information on yourlocal polling location
3. Proposition Pros & Cons
The Pros & Cons is a nonpartisan explanation of state propositions, with supporting and opposing arguments. The arguments come from many sources and are not limited to those presented in the Official Voter Information Guide.  The June 2018 ballot will includevotes on Propositions 68, 69, 70, 71, and 72.  At cavotes.org you can find links to online and downloadable  versions that provide information for each Proposition: 
The Question
The Situation
The Proposal
The Fiscal Effect
What a YES or NO Vote Means
What Supporters Say
What Opponents Say
Links to Official Support & Opposition Sites
 4. Easy Voter Guide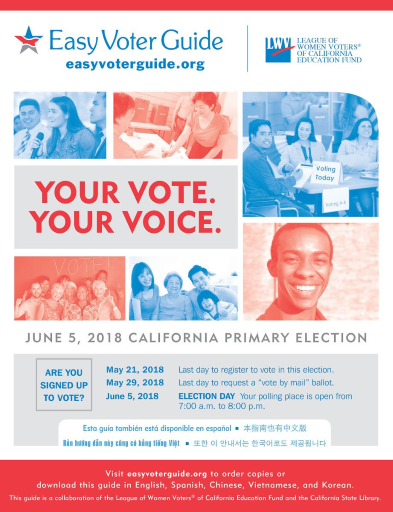 The League's Easy Voter Guide provides voters who are new, or just very busy, with condensed, user-friendly, nopartisan infomation about statewide elections. It covers
State propositions and
Information about California state and federal offices in this election.
Or you can pick up a printed Easy Voter Guide from a public library starting in early May. 
 ______________________________________________________________________
Why is the June 5  primary so important?
 Because:
That's when the candidates to be listed on the November ballot are chosen.
There will be Propositions! Five statewide propositions are currently scheduled for the June election.
 The June 5 primary will decide who appears on the November ballot for these offices and more:
United States Senate
 United States House of Representatives 
California Senate
California House
Governor
Lieutenant Governor
Secretary of State
Controller
Treasurer
Attorney General
Insurance Commissioner
Member, State Board of Equalization - 4 districts
State Superintendent of Public Instruction
A little background:  
 In 2010 California voters passed a Proposition to change to a 'Top Two Candidates Open Primary.' 
it eliminated single-party primaries.
All candidates for the same elective office, regardless of party affiliation, run against each other all at once. (Sometimes called a 'jungle primary')
The only names on the November ballot are the top two vote-getters from the June primary
 ______________________________________________________________________