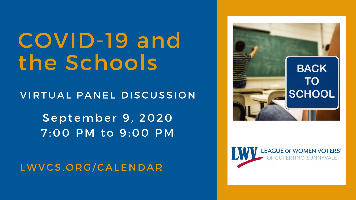 Wednesday, September 9, 2020 -

7:00pm

to

9:00pm
Reopening the schools has dominated the news and caught the attention of law makers including our president.
What are the implications of COVID-19 on students, teachers, and parents?
Whose decision is it to reopen the schools?
What is a Pod?
Are students going to get grades?
Have SATs really become optional for colleges?
What will it take to return to normal / what is the new normal?
These and many, many more questions will be addressed in this Webinar, 

brought to you by the League of Women Voters of Cupertino-Sunnyvale.
Polly Bove

, Superintendent Fremont Union High School District

Lori Cunningham

, Board President Cupertino Union School District Board

Michael Gallagher,

 Superintendent Sunnyvale School District

Jason Heskett,

 President Fremont Education Association (FEA) Union

Michelle Maginot, President Sunnyvale School District Board of Education
Juan Pedraza Arellano

, Student representative to the Fremont Union School District Board

Peter Chu, concerned parent of FUHSD student
Kelly Yeh

, concerned parent of CUSD student
A recording of this forum on Youtube is available HERE