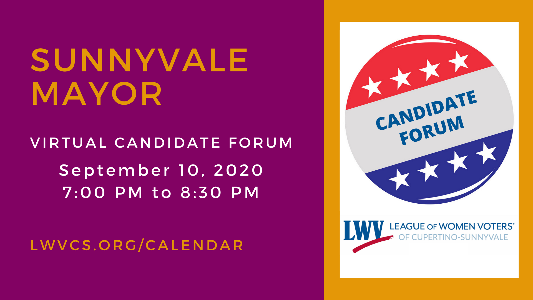 Thursday, September 10, 2020 -

7:00pm

to

8:30pm
 Residents of the City of Sunnyvale will have the opportunity to vote on 
 Mayor-at-large in the November 3rd election.
Sunnyvale Neighbors of Arbor, Including LaLinda (S.N.A.I.L.) will be presenting an online (Zoom) Candidate Forum for this election.  Elaine Manley, Co-President of the LWV Cupertino-Sunnyvale will be the moderator.
 Participants will have the chance to hear from all three Mayor candidates: 
Larry Klein - Mayor
Nancy Smith - Vice-Mayor
Michael Goldman - Council member
A recording of this Forum is available on Youtube HERE