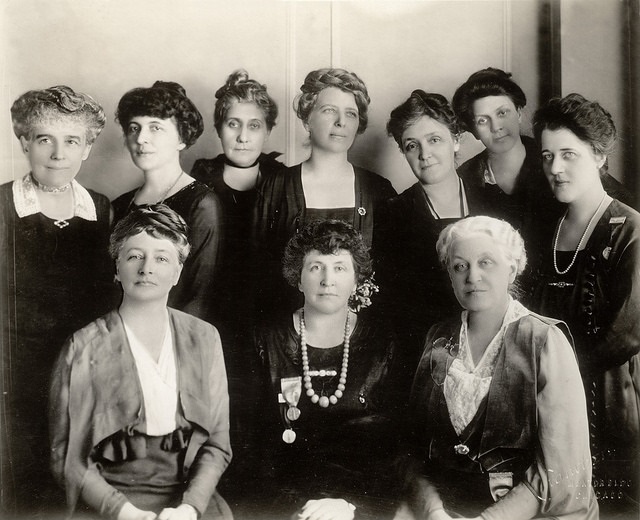 The ladies in the photo above might be astonished at what the League looks like now -- but hopefully they would be pleased!
Celebrate the work that they did, and all their successors, as we begin to plan for the 100th anniversary of passing the Nineteenth Amendment on August 18, 2019, and the 100th birthday of the League of Women Voters on February 14, 2020.
In April, the LWVUS board committed to developing a League-wide day of action for February 14, 2020, with the theme of 'Women Power the Vote'. Goals and activities will be developed in the coming months for state and local Leagues to participate in this high visibility opportunity. This day of action will complement any existing plans Leagues may have, staying true to our brand, and offering all Leagues the opportunity for engagement and celebration in honor of our centennial.
On this page, you'll find information and links for activities related to women's equality, women's suffrage, and the anniversaries of the 19th Amendment and the founding of the League of Women Voters.
The National Archives has an exhibit called 

Rightfully Hers

 that features THE 19

th

 Amendment document. The League is also featured in this very high-profile exhibit with historical documents that will be on display to the public until January 2021. We are also proud to have Virginia Kase included on their honorary committee and are in conversation with the Archives about other opportunities for collaboration. There will be a traveling exhibit and LWVUS is working with the Archives to make some materials available to Leagues in the coming months.

The Women's Vote Centennial Initiative (WVCI) is a collaborative of organizations and individuals committed to preserving and honoring women's suffrage history. The League of Women Voters is a WVCI Taskforce partner, meaning that our League is too. This organization has a lot of resources for suffrage celebration,including an interactive toolkit. WVCI is looking to feature events and activities in all 50 states.
https://2020owovfest.org/ 

The 

2020 ONE WOMAN, ONE VOTE Festival

 is a collaboration with national organizations and cultural institutions to present films, concerts, exhibitions, and public events leading into the centennial of the passage of the 19th amendment guaranteeing U.S women the right to vote. Named for the 1995 film "One Woman, One Vote", the festival is based in Washington DC but the blog posts and film recommendations can be used by all.