September was a busy month for the Voter Services committee.  Before the month began we staffed a table at CSU Fresno's Gender Equality Day.  We used a card game to ask students questions about voting and our system of government.   We offered our services to County Office of Education  for National High School Registration Week  in September. We will follow up with those contacts in the spring before the close of registration for the June primary. We attended Constitution Day events at CSUF and Reedley College and placed ads in the Collegian (Fresno State), Rampage (Fresno City College), and Community Alliance newspapers, letting people know
where they can register to vote, and staffed the League office on National Voter Registration Day for those wishing to register in person.   Below is a picture of LWV, Fresno Student Chapter registering students for voting.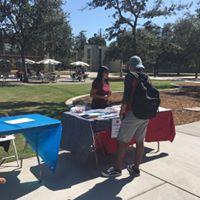 Issues referenced by this article:
Voting rights are under attack.
League to which this content belongs:
Fresno