The 2019 Annual Membership Brunch took place on Saturday, September 14 in the Kate Buchanan Room at Humboldt State University.  A delicious brunch was served, and with 32 members and 9 guests attending, the meeting was a great way to make new acquaintances, reconnect with League friends, and begin our exciting 2019/2020 League year.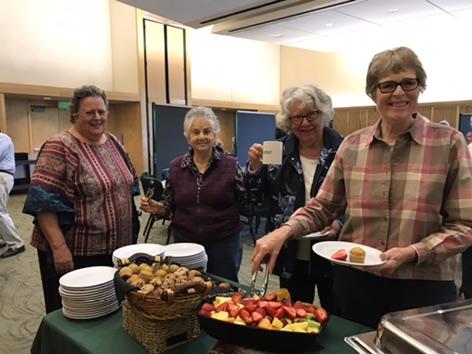 Our guest speaker, Connie Stewart, spoke to the gathering about the Humboldt Census 2020 Complete Count.  Connie is the Executive Director of the California Center for Rural Policy (CCRP). The CCRP is coordinating the effort for a Complete Count in the 2020 Census in Northern California.  Connie explained the challenges and opportunities the 2020 Census poses to rural counties, as well as the need for all people to be counted completely. She explained the need for people to understand that all responses to the 2020 Census are safe, secure, and protected by federal law, and that people have the opportunity to respond securely online, by mail, or by phone.  LWVHC has agreed to be a partner in the upcoming Complete Count effort. Connie will continue to update the LWVHC Board about ways that we can be involved in supporting this vital aspect of our democracy.
Special thanks to Becky Simpson for her extra effort in making this event a rousing success.