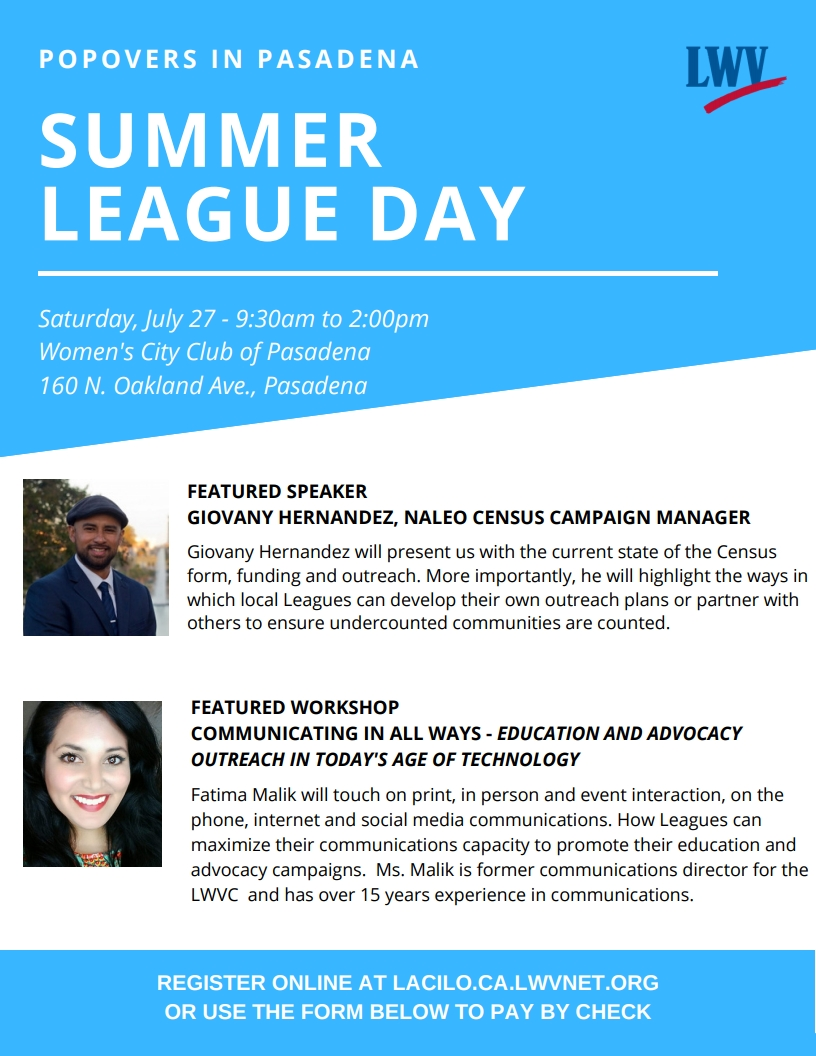 Location
Women's City Club of Pasadena
Pasadena
California
91101
California US
Saturday, July 27, 2019 -

9:30am

to

2:00pm
Popovers in Pasadena
Summer League Day
FEATURED SPEAKER GIOVANY HERNAND
EZ, NALEO CENSUS CAMPAIGN MANAGER
Giovany Hernandez will present us with the current state of the Census form, funding and outreach. More importantly, he will highlight the ways in which local Leagues can develop their own outreach plans or partner with others to ensure undercounted communities are counted.
FEATURED WORKSHOP COMMUNICATING IN ALL WAYS - EDUCATION AND ADVOCACY OUTREACH IN TODAY'S AGE OF TECHNOLOGY
Fatima Malik will touch on print, in person and event interaction, on the phone, internet and social media communications. How Leagues can maximize their communications capacity to promote their education and advocacy campaigns. Ms. Malik is former communications director for the LWVC and has over 15 years experience in communications.
Please send registration form and check payable to LWV/LAC.
Mail to: LWV/LAC Arrangements, Sandra Trutt 1508 Greenfield Ave. #207 Los Angeles, CA 90025
League Name: ______________________________________________________________________
Name(s): ____________________________________________________________________________ ______________________________________________________________________________________
Reservations # _______ @ $40.00 Total Enclosed: $ ________________
Meal Options: Chicken Piccata # _________ Vegetarian Option # ________
Questions? Call Sandra Trutt at 310-479-7482        
                To sign up and pay for the event online go to 
 http://lacilo.ca.lwvnet.org/calendar.html