Darby Moss Worth died on January 20 at the end of a politically aware and active
93 years of glorious life. Darby was well-known, loved, respected and admired by her community, family, friends, journalists, and co-activists, especially from the various organizations, particularly the Unitarian Universalist Church of the Monterey Peninsula, a multitude of clubs, campaigns, meetings, rallies, interviews and marches which she attended, participated in, organized or supported over the years. Darby was a long time member of our League of Women Voters of the Monterey Peninsula.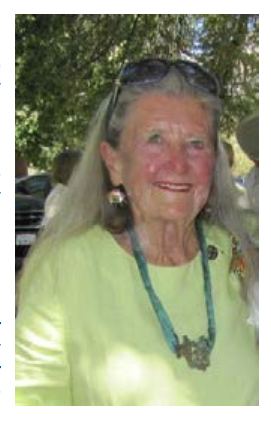 Born in Pennsylvania on October 25, 1924, and with the moral guidance of her beloved grandfather, she started speaking out for a more just society in her teens. She was convinced to promote world peace after the terrible nuclear bombing of Japan at the end of World War II. 
After earning her Physical Education degree, with a minor in History, at West Chester Teachers College, she worked for TWA as
a stewardess, enjoyed a 20 year career as a teacher at Tularcitos and River Elementary Schools in Carmel, then plunged herself almost entirely into the world of social and environmental activism.
Darby was tireless in her pursuit of peace, justice, human rights, equality, education, environmental protection, democracy, art and beauty. She was as passionate about enjoying life and having fun as she was about changing the world. And she was also very, very good about convincing others to get involved in any issues she championed. 

Darby's desire to end war, poverty, mass incarceration, corporate personhood, homelessness, ageism, racism and sexism, to promote women's rights, poetry, single-payer health care, lifelong learning, art, music, dance and free speech was famous.
She said, "Some people think I say inappropriate things. I prefer to think of it as radical honesty. You cannot be old and wise if you were never young and crazy." (Cedar Street Times, Jan., 2016, www.cedarstreettimes.com).
One of the many locally famous battles Darby fought was for the right to literally be buried in her own back yard. She was an advocate of the "green burial" concept which promotes dignity, simplicity and environmental responsibility by eliminating embalming, cutting out "corporate" mortuaries, and using biodegradable materials to allow natural decomposition in the earth.
Unfortunately Darby couldn't win this last ght due to California's complicated health and safety codes, huge nancial investments needed to basically turn her property into a cemetery, and other regulations required to dig a hole and allow her to become compost. (MC Weekly, Jan., 29, 2015, www.montereycountyweekly.com).
We can only take comfort in the fact that, although Darby won't be in her dearly loved Carmel Valley, her remains are to be sent for composting to Washington State Recompose (https://www. recompose.life).
We will remember, miss, and honor this great force of nature with a few personal tributes from fellow LWVMC members who knew her well:
"I was happily retired in 1999 when I was approached outside a coffee shop in downtown Monterey. I was asked what I was doing that was important to the world. As I stumbled for an answer, Darby talked me into coming to a meeting on corporate personhood. I've been politically active ever since."
George Riley
"I met Darby through the LWV. We had some 'parking lot talks' that showed me how engaged she was in almost all topics... An inspiration!" Bev Kreps
"I rst met Darby in the 1970's when she was teaching at Tularcitos Elementary
School, the school both my children attended. She was an engaged teacher performing a noble profession. I could never picture her as a ight attendant. I could see her more as an environmental lobbyist. I always envied her thick beautiful hair. She will be missed!" Cynthia Hall
"After I rst met Darby, I started seeing her
at a variety of community events. It got to the point that if Darby wasn't there, it really wasn't an event. It was with great affection that during the Q&A after a League luncheon speaker, the moderator would call on Darby but have to say, 'No speeches Darby, please ask a question.' Darby always wanted you to know where she stood." Dennis Mar
Regina Doyle, LWVMC Voter Editor, ReginaDoyle [at] aol.com