Visit Voter's Edge California to find all the facts before you vote. Enter your address and get your entire ballot and polling place.
Enter your address to find your polling place, create your personalized voters' guide and find everything you need to vote! With your personalized guide, you will:
see everything that will be on your ballot,
compare candidates' positions side-by-side,
print out a personalized ballot with your choices to take with you on Election Day.
The League provides various resources for elections. Watch for the updated Easy Voter Guides, Pros & Cons and other materials to help prepare for the November general election.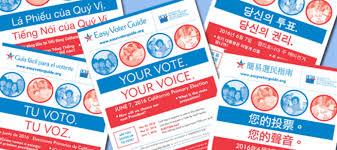 The
Easy Voter Guide
has information to help new and busy voters learn about how to vote and what will be on the ballot in statewide elections. It also helps people learn how to make change in their community.
See the Pros & Cons of the state ballot measures.

 See the LWV California recommendations on the state ballot measures.

Are you a military or overseas voter?