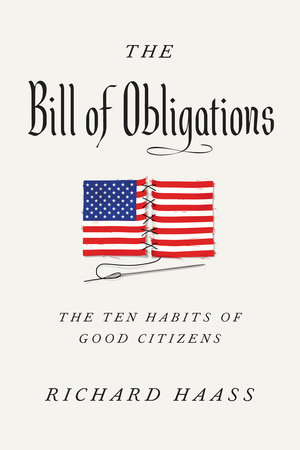 Thursday, November 9, 2023 - 5:00pm to 6:00pm
November Book DiscussionThe Bill of Obligations: The Ten Habits of Good Citizens by Richard Haass
We often think and talk about our rights as citizens, especially those spelled out in The Bill of Rights – freedom of religion, freedom of speech, and so on. The flip side of rights – obligations – usually gets less attention. What happens when we consider the obligations that go with our rights?
We invite you to join our October book discussion of The Bill of Obligations: The Ten Habits of Good Citizens. Author RichardHaass is the president of the nonpartisan Council on Foreign Relations. He has served under multiple administrations of both major political parties. He brings his extensive career experience as well as his great love of democracy to this slim volume, making a clear case for giving citizens' responsibilities the same emphasis as citizens' rights.
No time to finish the book? Feel free to attend anyway -- we believe you'll enjoy the discussion (and maybe be inspired to read on!)
We will meet Thursday, November 9 from 5 to 6 pm. All are welcome, so bring a friend!