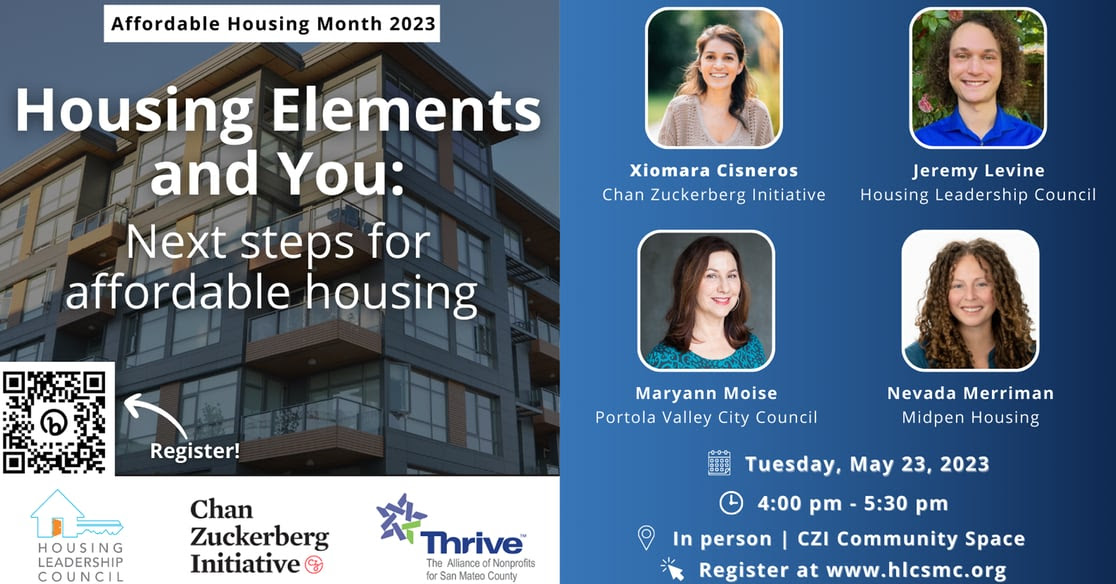 Tuesday, May 23, 2023 - 4:00pm to 5:30pm
Every city and town in San Mateo County—and the county itself— must submit a housing plan, called a Housing Element, to address the jurisdiction's housing needs over the next eight years. The deadline for this planning blueprint has just passed. How can you help jurisdictions deliver on their housing commitments by 2031? The availability of affordable housing for the rest of the decade, an issue of huge importance to nonprofits and their clients, is at stake with the housing element implementation.
On Tuesday, May 23 at 4 p.m. the Chan Zuckerberg Initiative, Thrive Alliance, and the Housing Leadership Council of San Mateo County are hosting a panel discussion on Affordable Housing.
Join us for Housing Elements & You: Next Steps for Affordable Housing on Tuesday, May 23, 4-5:30 pm for an innovative conversation about the Housing Element process in San Mateo County. During this program, you can expect to hear from a range of experts discussing the importance of this process, learn about builders' remedies, and learn how to get involved with your local jurisdiction.
If you can make it to this meeting, please join our next Housing Caucus meeting on Wednesday, June 7 at 5 p.m. to share what you learned. Click here to register for this Zoom meeting. 
See our league's position on Affordable Housing here.