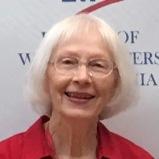 Sincere thanks to all of our members who are working on our various Voter Service projects! We have members registering people to vote, studying and presenting the Pros and Cons of state and local ballot measures and helping out at candidate and issues forums. Thirty- two of us will be working at three local libraries the last week before election day taking in mail ballots for the Registrar of Voters. 
Our energetic and talented Voter Service Director, Elizabeth Brady, is going back to work full time at the end of September. Thank you, Elizabeth, for all the hours of work and dedication you have given to our League. To cover voter services requested after Elizabeth leaves us, Barbara Lorenzen has kindly stepped up to handle any forum requests that come in, and I will field any Pros and Cons requests. Anna Lillian will continue to schedule the Pros and Cons. Please feel free to call me if you have any questions, want to suggest a forum or Pros and Cons group presentation, or anything else related to Voter Service that may come up. 
At our Kickoff meeting on 9/15, Greg Anglea of North County Interfaith Services spoke about our North County homeless population. One thing he mentioned will lead to action by our League. The state is releasing millions of dollars for emergency shelter to cities and councils that ask for it. One prerequisite to requesting the funds is that each city pass a Resolution regarding lack of enough Emergency Shelter. Our League will be following up on this issue and asking every North County city to pass such a resolution and apply for funds to help shelter their own population of homeless. 
And finally, encourage everyone to Vote!
Anne