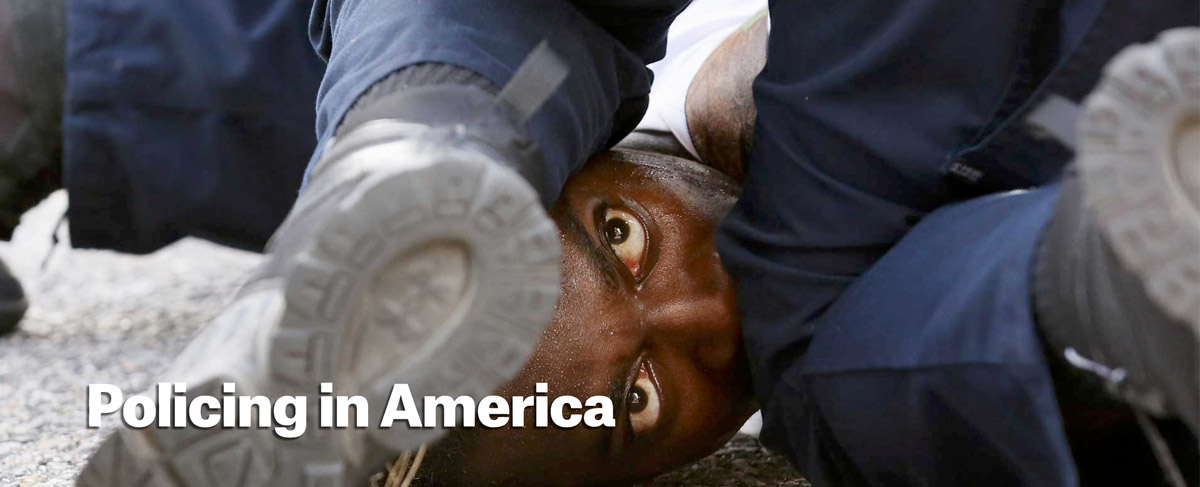 The U.S. has the highest incarceration rate in the world. Over the last five decades, our country has criminalized an increasing number of behaviors and targeted Black communities and communities of color for over-policing and aggressive prosecution. We treat people who are suffering from drug addiction and mental illness as criminals instead of recognizing that such problems require a healthcare response. Our country incarcerates hundreds of thousands of people who are not a threat to public safety and who should be released so that the billions of dollars spent on jails and prisons can be redirected to actually improving community health and enhancing public safety by addressing the conditions that create harm. Currently, the entire system of policing, prosecution, punishment, and incarceration is a barrier to creating a just and safe society. (The Equal Justice Initiative - a private, 501(c)(3) nonprofit organization that provides legal representation to people who have been illegally convicted, unfairly sentenced, or abused in state jails and prisons.)
The League of Women Voters US advocates against systemic racism in the justice system and, at a minimum, for preventing excessive force and brutality by law enforcement.
Law enforcement agencies have outsized budgets while other vital community services are underfunded. In too many places, police engage in patterns and practices that undermine public safety and create harm. Police officers are asked to respond to issues that they are not equipped or trained to address. Approaching health care emergencies, substance abuse issues, mental illness and homelessness with a "law and order" orientation is ineffective and too frequently results in police violence and avoidable injury and death. As even some law enforcement officers acknowledge, we must reimagine public safety and community health, reallocate funds from traditional policing to services that promote public safety and more effectively address the conditions that create poverty, inequality, and community distress.
Police in Los Angeles and other major cities across California issue citations to Black residents for minor infractions such as loitering, drinking in public and sleeping on the street at far higher rates than white residents, according to a new study by the Lawyers' Committee for Civil Rights of the San Francisco Bay Area.
In L.A., Black residents — who represent less than 10% of the city's population and about 38% of its homeless population — were 3.8 times more likely than white residents to be cited for a non-traffic infraction, receiving 30% of all citations issued by the Los Angeles Police Department between 2017 and 2019, the study found.
Black people received 63% of citations issued by the LAPD for loitering while standing, 33% of citations for loitering while sitting or sleeping, 27% of citations for drinking or being intoxicated in public, 32% of citations for having an open bottle and 29% of citations for refusing to take down a tent, the study found.
SDPD and the San Diego Sheriff's Department's internal data confirm that there is a different standard of policing for Black people, Brown people and people with disabilities compared with White people and people without disabilities in the county.
In a 2016 study, San Diego State University researchers analyzed two years' (2014 to 2015) of SDPD traffic data and found that Black and Latino drivers were more likely to be searched during a traffic stop but less likely to be found with contraband, compared with White drivers. But the San Diego City Council shelved the SDSU study and did not act on any of its recommendations.
In 2019, the Campaign Zero report Evaluating Policing in San Diego echoed the results found by the SDSU study. The report, commissioned by the ACLU of San Diego & Imperial Counties, found other troubling disparities as well. For example, it found that Black people were 219% more likely to be stopped by San Diego police officers than White people; and were stopped by Sheriff's deputies at higher rates than White people in every jurisdiction of the county.
Despite those findings, SDPD and the Sheriff's Department skirted responsibility. To this day, the county's two largest law enforcement agencies resist making meaningful changes and refuse to acknowledge, address and hold their officers accountable for biased policing.  (Union Tribune)
On July 6, 2020, the Coalition for Police Accountability and Transparency proposed a set of policy changes called Police Accountability Now. This policy package, developed with feedback from community members and partners, aims to reduce law enforcement presence in communities of color and address biased policing and police violence. Its recommendations are listed below.
Local governments in our region should pass the Preventing Over Policing Through Equitable Community Treatment, or PrOTECT, proposal: A law that would ban consent searches and stops, and end pretext stops, in which, for example, a police officer uses a minor violation as an excuse to stop a person and question them about unrelated activities.
Research shows these discretionary stops are used disproportionately on Black and Brown San Diegans. This law aims to reduce police encounters with Black and Brown community members.
Decriminalization of certain low-level offenses and investment in non-law enforcement interventions by divesting from the police budget. Among other things, police should not be first responders to calls involving people experiencing mental illness and homelessness.
An independent community-led oversight commission with robust powers
Strong use of force and de-escalation policies that ensure the full spirit and vision of AB 392 is implemented
Bill Loftus, Social Policy Director