What is Civil Engagement?
A dialogue in which all participants have a right to speak and to be heard. Such dialogue is characterized by:
Respectful participation
Sharing the time equitably
Attentive listening
Balanced discussion
League's role in Civil Engagement
To study the current climate of civility(and incivility) and the League's historic role as one of the most trusted organizations in America.
To check our own practices.
To promote civility in an increasingly partisan world.
Building Needed Muscles for Democracy:  LWV Facilitation Training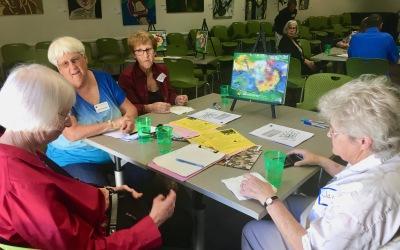 On a warm Saturday afternoon in the spring, League members and curious community members were in training.
Going beyond the notion of `exercising your right to vote,' participants were building the muscles of facilitation and listening, essential for our democracy when conducting civil public dialogues.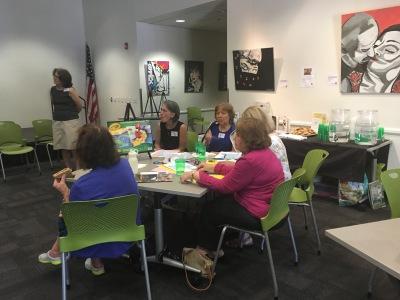 Based on the League's civil discourse work and deliberative dialogue training, the training session began with research about our society's trend toward a more active and collaborative role for community members in addressing problems. Participants then used a discussion guide prepared by League members in their work with the Kettering Foundation as a case study to conduct a deliberative dialogue on the issue. Each participant had a chance to play the part of facilitator, note-taker, and participant.
Resources for additional information on Civil Engagement
Books

Bowling Alone: The Collapse and Revival of American Community, Robert D. Putnam, Simon & Schuster, New York, 2000
Rude Democracy: Civility and Incivility in American Politics, Susan Herbst, Temple University Press, Philadelphia, PA, 2010
The Big Sort: Why the Clustering of Like-Minded America is Tearing Us Apart, Bill Bishop, Mariner Books, New York, 2008
True Enough: Learning to Live in a Post-Fact Society, Farhad Manjoo, John Wiley & Sons, Hoboken, NJ, 2008
un*Spun: finding facts in a world of [disinformation], Brooks Jackson and Kathleen Hall Jamieson (founders of FactCheck.org), Random House, New York, 2007
Links
Arizona Humanities Council -- LWV is part of an alliance of community groups on "Project Civil Discourse"
factcheck.org -- A non-partisan, nonprofit website that describes itself as a 'consumer advocate' for voters that aims to reduce the level of deception and confusion in U.S. politics.
Institute for Civic Discourse and Democracy -- Kansas State University -
Institute for Civility in Government
National Conflict Resolution Center-San Diego
National Institute for Civil Discourse -- University of Arizona will offer venue for vigorous and respectful debate.
San Diego Deliberation Network -- Our local cohort moving the cause with grace and finesse
Southern Poverty Law Center -- Teaching Tolerance curriculum
Briand, Michael (1999).
The inescapability_of_choice. In Practical Politics: Five Principles for a Community that Works. Urbana, IL: University of Illinois Press. 33-43.
Carcasson, Martín (2008). Democracy's Hubs. A research report for the Kettering Foundation. Link
Carcasson, Martín (2009). Beginning With the End in Mind: A Call for Goal-Driven Deliberative Practice. New York: Public Agenda. Occasional Paper No. 2. Link
Carcasson, Martín & Leah Sprain (2010). Key aspects of the deliberative democracy movement. Public Sector Digest. July. Link Website
Christensen, Karen (2009). Building shared understanding of wicked problems. Rotman Magazine. Winter: 16-20. Link
Gaventa, John & Gregory Barrett (2012). Mapping the outcomes of citizen engagement. World Development. 40(12): 2399-2410. Link
Jacobs, Lawrence R., Fay Lomax Cook & Michael X. Delli Carpini (2009). Talking Together: Public Deliberation and Political Participation in America. Chapter 7. Chicago: The University of Chicago Press: 135-151. Link
London, Scott (2010) Doing Democracy. A Kettering Foundation Report. Link
Mathews, David (2009). Afterword: Ships Passing in the Night? In Derek Barker and David Brown, Eds, A Different Kind of Politics: Kettering Research on Democracy and Higher Education. Dayton, OH: Kettering Foundation Press. Link
Yankelovich, Daniel (2010). How to achieve sounder public judgment. In Daniel Yankelovich & William Friedman, Eds. Toward Wiser Public Judgment. Nashville: Vanderbilt University Press. Link