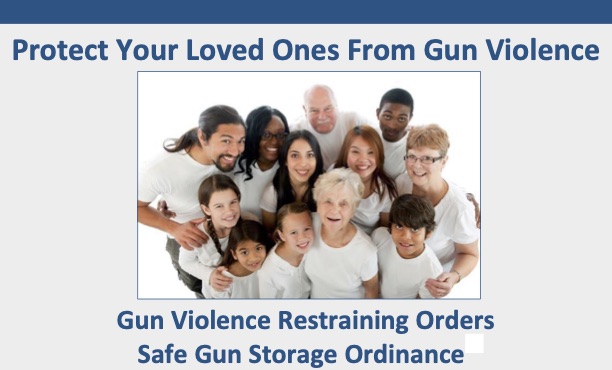 The League of Women Voters believe that the proliferation of handguns and semi-automatic weapons in the United States is a major health and safety threat to its citizens...

This is just the beginning of the League of Women Voters' Public Policy Position on Gun Control which has been carefully reviewed and updated over and over again since the 1990's.

The proliferation of guns in our society as a result of the repeal of gun control laws and the passing of pro-gun laws, especially over the last 25 years has resulted in some frightening statistics:


There are roughly twice as many guns per capita now as there were in 1968, more than 300 million guns in all.
Americans are 25 times more likely to be murdered with a gun than people in other developed countries. More people were killed by guns than by car accidents in 2017.
On an average day over 100 Americans are killed with guns. In an average month 50 US women are shot to death by intimate partners.
Guns are the third-leading cause of death for all Americans under 18.
91 percent of children under 15 who were killed by bullets lived in the United States.
More than 208,000 students attending 212 schools have experienced a shooting at school since the Columbine High School massacre.
Last year more than 4,000,000 children and teens endured a lock-down at their school, some terrified for hours by the thought that they would die at school that day.

In the 20 years ending in 2012 there was an average of three school shootings per year in California. Right here in San Diego County there have been three school shootings since the year 2000 and just last year there was a mass shooting at an apartment complex. Many of us feel enough is enough and are looking for ways to reduce the risk of gun violence in our community. We have gone to city councils and school boards and requested resolutions that call for stronger gun control laws and call for the end of gun shows at the fairgrounds.

We want to encourage you to express your opinion on this issue and get involved because the NRA is expressing their opinion en masse. We can't sit on the sidelines anymore, we have to raise our voices together. This group can be a force for good, not just good intentions. If that is what you want as well, please come and learn more. We welcome your participation one time or every time.
______________________________________________________________
Gun Violence Restraining Orders:  Preventing Predictable Gun Tragedies

With 3,000+ gun deaths in California annually, there is an urgent need to implement effective strategies to reduce firearm violence. Our state's Gun Violence Restraining Order is one legal tool that addresses the warning signs of violence and may prevent gun tragedies.

On March 11, 2020 Jill Cooper, a retired Solana Beach educator, gave a presentation on Gun Violence Restraining Orders (GVROs) at the LWVNCSD's program, "Protect Your Loved Ones from Gun Violence."  Her talk described GVROs, why GVROs are important, evidence of their effectiveness, and the process for obtaining one.

A GVRO is a civil court order that temporarily prevents someone at risk of harming themselves or others from possessing, purchasing, or accessing firearms, ammunition, and magazines (ammunition feeding devices). When a judge grants a GVRO, the restrained individual must surrender all guns, ammunition, and magazines during the period of the order. Because the GVRO is a civil order, the restrained individual will not have a criminal record unless s/he violates the order.
After the tragic mass shooting at Isla Vista in 2014, California legislators passed our GVRO law, effective in 2016. The GVRO is one of the "Extreme Risk" laws that states have found effective in preventing gun suicides and providing restrained individuals with safe paths to treatment. GVROs may also protect children and family members from accidental home shootings, and there is new evidence that they are preventing mass shootings in our state.

California has 3 types of GVROs. Emergency and Temporary GVROs enable law enforcement and family or household members to contact a Superior Court judge for an order lasting up to 21 days to prevent imminent harm. Following that order, the court can hold a 'GVRO After Notice and Hearing' to determine whether there is sufficient evidence to approve a GVRO for up to 1 year. In September 2020, legislation extends this period for up to 5 years.

San Diego County, led by City Attorney Mara Elliott, issued more than 40% of the state's GVROs last year. The League presentation included sharing of local cases where guns were removed from individuals at risk for harming themselves or others.

Program participants were encouraged to call 911 or the Police for help if they or loved ones are at risk for gun violence and were urged to consider petitioning for an emergency GVRO.

See below to download the handout from the event.