Why Does the League Need a Civil Discourse Interest Group?
What is Civil Engagement? | League's role in Civil Engagement | Facilitation Training | Dialogue | Democracy Talk | Participatory Democracy | San Diego Deliberation Network (SDDN) | More Resources on Civil Engagement
What is Civil Engagement?
A dialogue in which all participants have a right to speak and to be heard. Such dialogue is characterized by:
Respectful participation
Sharing the time equitably
Attentive listening
Balanced discussion
League's Role in Civil Engagement
To study the current climate of civility(and incivility) and the League's historic role as one of the most trusted organizations in America.
To check our own practices.
To promote civility in an increasingly partisan world.
Building Needed Muscles for Democracy: LWV Facilitation Training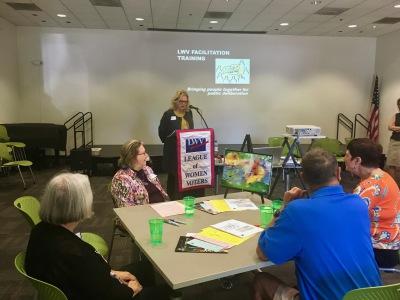 On a warm Saturday afternoon in May, League members and curious community members were in training.
Going beyond the notion of `exercising your right to vote,' participants were building the muscles of facilitation and listening, essential for our democracy when conducting civil public dialogues. 
Based on the League's civil discourse work and deliberative dialogue training, the training session began with research about our society's trend toward a more active and collaborative role for community members in addressing problems. Participants then used a discussion guide prepared by League members in their work with the Kettering Foundation as a case study to conduct a deliberative dialogue on the issue. Each participant had a chance to play the part of facilitator, note-taker, and participant.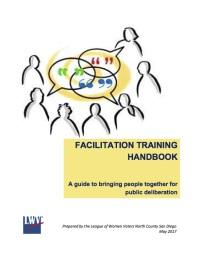 Click 
here to download the League's Facilitation Training Handbook. 
Democracy in Dialogue
Empowering Our Communities Through Civil Civic Engagement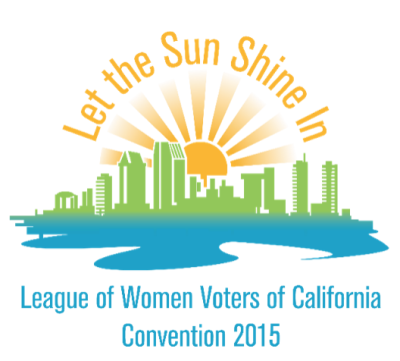 A whopping 137 people turned out for the Democracy in Dialogue workshop at the 2015 State League Convention in San Diego on Saturday, May 16, which showcased the `out of the box' efforts of four different Leagues to engage their communities.  Even though the meeting room was enlarged after the workshop was oversubscribed during registration, it was still necessary to bring in additional seating for the overflow crowd.
The overwhelmingly positive feedback received through our online survey indicates the subject was strongly relevant to Leagues' voter service and convener/facilitator roles, and several people voiced interest in a statewide forum/movement around the idea of civil discourse.  Attending the session was the convention's keynote speaker, Carolyn Lukensmeyer, who touched on some of the workshop's themes in her keynote address that evening.  A follow-up email was sent to all registered workshop participants leading them to our website for workshop materials, including written responses to questions submitted at the workshop. Here's the link to the materials. 
What kind of Talk does Democracy Need?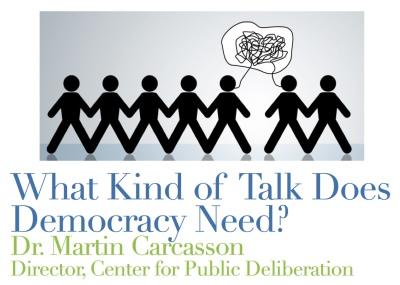 For those of you who attended the talk with Dr. Martin Carcasson on a hot July 8th at the Scripps Ranch Library, thanks for being there. His presentation was illuminating and energizing for the assemblage of academics from local colleges and Leaguers from as far away as Orange County. A huge "shout out" and thanks to Dr. Carcasson who waived his usual fee to be with us. Another "shout out" to our fantastic collaborative partner, Dr. Carl Luna, Political Science Professor at Mesa College and co-founder of Restoring Respect. This is just the beginning of a continuing conversation. You will want to stay tuned.
A reporter from the Independent Voters Network, Jane Susskind, was in the audience and posted this article about the event.
In addition, we were invited to write an Op-Ed piece for the Voice of San Diego. Find it here.
Many of you asked for copies of Dr. Carcasson's slides. Click here for those.
Also, a video of a previous talk by Dr. Carcasson can be found at this link.
Our conversation is far from over. We hope you will be part of it by sharing your thoughts and ideas and joining us in future events. 
Putting Civility into Action - Participatory Democracy
We're in this together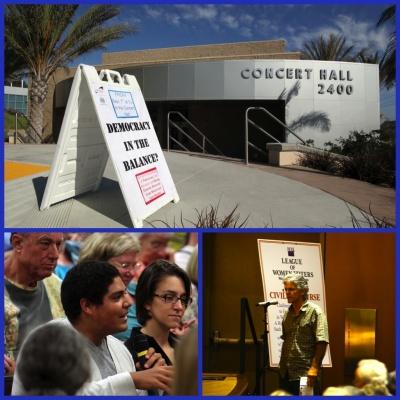 The League of Women Voters' mission is to promote active, informed citizen participation at all levels of government through education and advocacy. Our focus is that our hands-on work will safeguard democracy leading to civic improvement.
After the January 2011 Tucson shootings, we undertook a study of the roots and causes of incivility and gave presentations to community groups.

In September 2012, we joined with Mira Costa College to present 

DEMOCRACY IN THE BALANCE? Getting Beyond the Shouting

, a 2-day free community event that featured 

Patriocracy

, a documentary film about the dysfunction in Washington. The standing-room only crowds convinced us that the public is interested in getting beyond the shouting.
Where we are going
After study and community presentations, we see our next steps engaged in promoting dialogues in our communities. We think the deliberative dialogue process, where diverse groups come together to discuss difficult, usually value-laden issues, will generate meaningful conversations and with it, greater civic engagement. 
San Diego Deliberation Network (SDDN)

The San Diego Deliberation Network is one of our collaborators. Many of our members are active in this innovative group.
More Resources on Civil Engagement
BOOKS
Bowling Alone: The Collapse and Revival of American Community

, Robert D. Putnam, Simon & Schuster, New York, 2000

Rude Democracy: Civility and Incivility in American Politics

, Susan Herbst, Temple University Press, Philadelphia, PA, 2010<b

The Big Sort: Why the Clustering of Like-Minded America is Tearing Us Apart

, Bill Bishop, Mariner Books, New York, 2008

True Enough: Learning to Live in a Post-Fact Society

, Farhad Manjoo, John Wiley & Sons, Hoboken, NJ, 2008

un*Spun: finding facts in a world of [disinformation]

, Brooks Jackson and Kathleen Hall Jamieson (founders of FactCheck.org), Random House, New York, 2007
LINKS