The Oakland Metropolitan Chamber of Commerce announced their 2019 Chamber Award recipients at the Chamber's 114th annual Luncheon, held on June 26th, 2019 at the Oakland Marriott Hotel. The Chamber's annual meeting, the largest business gathering in the East Bay, celebrates the businesses, nonprofits and community members who have collectively contributed to the betterment of "The Town 2019." A key award, the T. Gary Rogers Community Commitment Award, given to individuals who over their lifetime have furthered Oakland values in business, community, and philanthropy, was awarded to Bonnie and Earl Hamlin for their tireless efforts in many civic and business areas.  The list of contributions by them individually and jointly challenged the presenters in how much they could describe because of the scope and diversity of their impact on our communities.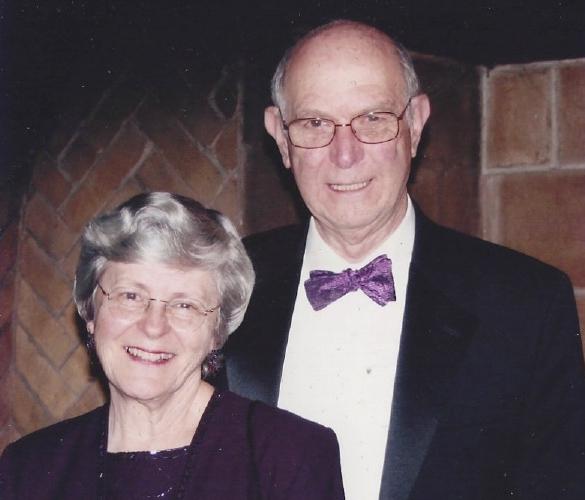 LWVO has long been the beneficiary of Bonnie's extraordinary service.  A member since 1970, when Bonnie and Earl came to Oakland, Bonnie Hamlin immediately became active serving in many different capacities  – treasurer, newsletter editor, Program Vice President, Nominating Committee Chair, President, and Administration Vice President, the position she currently holds.  While she was president, LWVO was involved with adoption of Oakland's Sunshine Ordinance, participated in the drafting of the Estuary Plan, ran the campaign to amend the City Charter to allow for City Council vacancies to be filled by special election, and worked with Common Cause to support the introduction of partial public financing of elections.  More recently, she has coordinated and motivated volunteers in the League's office and matching members to serve on committees, managed the membership and Annual Luncheon databases, chaired the Development Committee, and become known to many as the contact person for table hosts at the Luncheon. 
Bonnie has also served at the League state and regional level, bringing a wealth of knowledge, creative thinking and organizational development to all her endeavors. Working with the League of Women Voters of California, she volunteered with their voter information Web site, known first as Smart Voter and now, as Voter's Edge. Starting in 1996 as the Alameda County Coordinator, she worked with volunteers from the Leagues in the County to support the local and regional elections.  More recently, she has been Northern California Liaison, recruiting and training Voter's Edge volunteers from Leagues in the central and northern parts of the state. These volunteers in turn then work with candidates and their aides, persuading encouraging them to populate their Voter's Edge Web pages with information about their candidacies. From 2009 – 2011, she was Member Services Director on the Board of Directors of the League of Women Voters of California, tracking membership, offering training workshops, and coaching local Leagues in Membership and Leadership Development.
At the same time, she has been part of Oakland community building.  In 1986 her group at Montclair Presbyterian Church, concerned about Reagan's rhetoric about "The Evil Empire", founded an association to support Oakland's 1975 sister city relationship with a small container port city in the Soviet Far East near Vladivostok. The Oakland/Nakhodka Sister City Association sponsored exchanges of government and port officials, high school students, children's choirs, physicians, and sailors over the succeeding 18 years. During this time, she also became a member of the Rotary Club of Oakland and helped facilitate a couple of exchanges of business people. The choir at Montclair Presbyterian Church and a variety of other volunteer activities there over the years have also always been a major focus of her life.
Earl Hamlin was born in Alameda and settled here in Oakland in 1971 with Bonnie after they both graduated from Oberlin. Professionally his career has involved investment banking, and jobs as financial analyst leading to his job as a Certified Financial Analyst (with the self-given title of General Whatnot) in the research department at Hambrecht & Quist, investment banker to Apple, Genentech, and Golden West Savings and Loan, among others. He has had a distinguished public service career: appointed to a position on the Alameda County Planning Commission in 1990, serving for 12 years, during which time urban growth boundaries were established and wineries were encouraged. He was honored as Planning Commissioner of the Year in 2001 before stepping down in 2002.  He served on the Board of Directors of Chabot Space and Science Center from 1998 – 2006, including six years as Treasurer. In May 2013, then Mayor Jean Quan appointed Earl to the position of Commissioner at the Port of Oakland; he was re-appointed by Mayor Libby Schaaf and served until stepping down in December 2018. He sat with Greg McConnell and Alan Yee on a City of Oakland Blue Ribbon Housing Commission.
Bonnie and Earl have lived in the Rockridge district for over 48 years within walking distance of BART, and individually and together as a "power couple" have contributed to making Oakland a better place to live. Kudos from LWVO, we are proud to call them members. 
League to which this content belongs:
Oakland