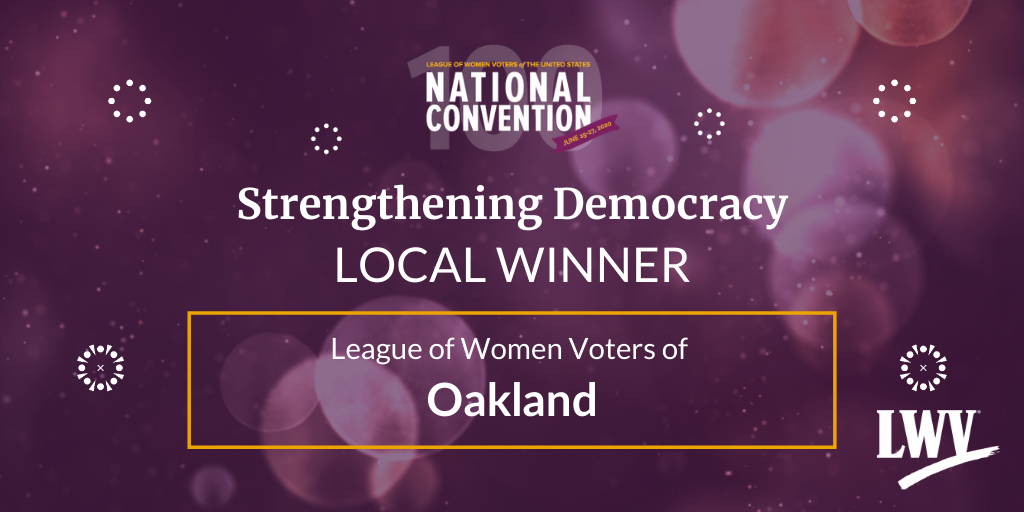 Congratulations to the members of the Oakland League of Women Voters for winning the LWVUS Strengthening Democracy award at this year's national convention.

The Reentry Task Force is the result of a team effort by members at every level of our League.  The Oakland League's work with organizations that serve people who are reentering the community from incarceration began in 2017 with a capacity-building grant from the Alameda County Probation Department.  League members who were instrumental in our League getting this grant were Mony Flores-Bauer and Louise Rothman-Riemer, who was then League president. The purpose of the grant was to help the Oakland League build its capacity to serve underserved communities, including the reentry community.
The Reentry Task Force grew out of the work of League members Deleign Thompson and Gwen Knighten-Smith, who led the reentry segment of the grant.  They, along with League members Deborah Shefler, Louise Rothman-Reimer, Louise Anderson and others, began to engage with community-based organizations and agencies serving the reentry community.  During 2018, Deleign and Gwen began working with these organizations to help register voters, and provide voter information and training.

As the grant requirements moved toward completion, Deleign and Gwen asked League member Elaine Ginnold to join with them to form a Task Force to continue working with the reentry community. They created a flier about the voting rights for people who are formerly incarcerated and formed the Task Force in early 2019 along with Louise Anderson, Phyllis White-Ayanruoh, Louise Rothman-Riemer, and Katie Dixon. Current members include: Roberta Brooks, John Jones III and Jodie Nunez. Elaine Ginnold is the Interim Chair of the Task Force.

Each member of the task force identifies a reentry community organization and becomes the main League contact for that organization to provide year-round voter registration and information, such as Reentry Fliers and the brochure Who Represents Oakland. Before elections, they provide Easy Voter Guides and other election information and offer training on election procedures.  Right now, Task fForce members are beginning to contact reentry organizations to let them know about the new voting procedures for the November 3rd election. 
Elaine Ginnold, Interim Chair of the Task Force
League to which this content belongs:
Oakland