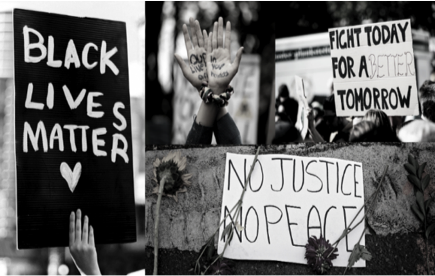 The history of the United States has been punctuated by moments of revolution to drive change.  Revolution born of oppression. Revolution born of systemic inequality built into the fabric of our society. Revolution born of people demanding their human and civil rights. Today, we find ourselves in such a moment, as people all over the country, and now the world, stand to demand justice for Black lives. As the League of Women Voters, our relationship with the Black community and civil rights movement is our moral imperative and fundamentally tied to our mission of empowering voters and defending democracy.
     I have seen League members on the front lines, working to accomplish systemic change  and often acting as allies to challenge racial injustice in California. In 2019, LWVC adopted a new position on criminal justice, with the intent of fighting alongside our Black and Brown communities to confront systemic bias, and to modernize and build transparency and accountability in policing practices, particularly as they disproportionately impact communities of color.
     The League fought hard to pass AB 392, a new California law creating one of the toughest standards in the country for the use of force by police.  And League members across the state are now working with a broad coalition of advocates, civil rights groups, and local governments to confront resistance to the new law, ensure compliance across statewide agencies, and guarantee effective local implementation.
     Further, the LWVC worked with our civil rights partners to co-sponsor the California Racial Justice Act (AB 2200), which will not carry forward during this legislative year due to COVID-19, but will likely be re-introduced next year.  We are co-sponsors of Assembly Constitutional Amendment 6, working with the Free the Vote Coalition to confront the history of racial oppression behind our state's felony disenfranchisement laws and restore voting rights to Californians on parole.  If passed, the Free the Vote Act will roll back a form of voter suppression currently facing Black and Brown Californians and will signal to all Californians that their voices matter.
     You see, our work - the work of empowering voters and defending democracy is inherently tied to dismantling the systems of racism that have been built into our social structures over hundreds of years. The revolution will continue. It will continue on the streets. It will continue on the ballot.  It will continue in the statehouse.
     And we will be there listening to our directly-impacted members and to the civil rights leaders at the forefront of the movement.  We will use our talents, drive, and mission to help amplify their voices to drive the kinds of changes they are calling for, and that we have already prioritized as a League.
     And finally, as a reminder to us all, people are hurting. Protests and civil unrest are rooted in pain. The conversations we are having are not easy.  Doing the work of introspection to challenge our own assumptions and worldviews is not easy.  Yet, as individuals, we must do the work. There is a lot to learn for those of us humble enough to listen.  As we all try to show up in the best ways possible in this moment, I encourage you to come to every conversation with an open heart, humility, empathy, and an open mind. That's the very minimum it will take for us to stand together and move forward.
League to which this content belongs:
Oakland