Update:  Read LWVO's latest letter to Oakland City Council, requesting a halt to the City's appeal of the Measure AA suit.
Despite numerous pleas by LWVO that the City of Oakland not appeal the October 15 Superior Court ruling that enacting Measure AA despite it's not having received the requisite two-thirds vote would be "fraud on the voters," the City Attorney on  November 21 did file that appeal.

LWVO is disappointed that the City Council has chosen to appeal, and we are investigating what further steps we might take to thwart the Council's action and to seek further support for our position that Measure failed because it did not receive the vote that voters were told it required.  In the meantime, we encourage members to share "your displeasure with your own Council members," as well as with Councilmember-at-large Kaplan and Mayor Schaaf.
When the City Council voted last December to certify Measure AA, the Oakland Children's Initiative, as "passed" despite the measure not having received the required two-thirds vote, LWVO protested and asked the Council to nullify its action. The League's request was never granted, but the Council did vote in April not to collect the $198 parcel tax for the first year because the matter was under litigation.
In a case brought against the City of Oakland by the Jobs and Housing Coalition (JHC), Superior Court Judge Ronni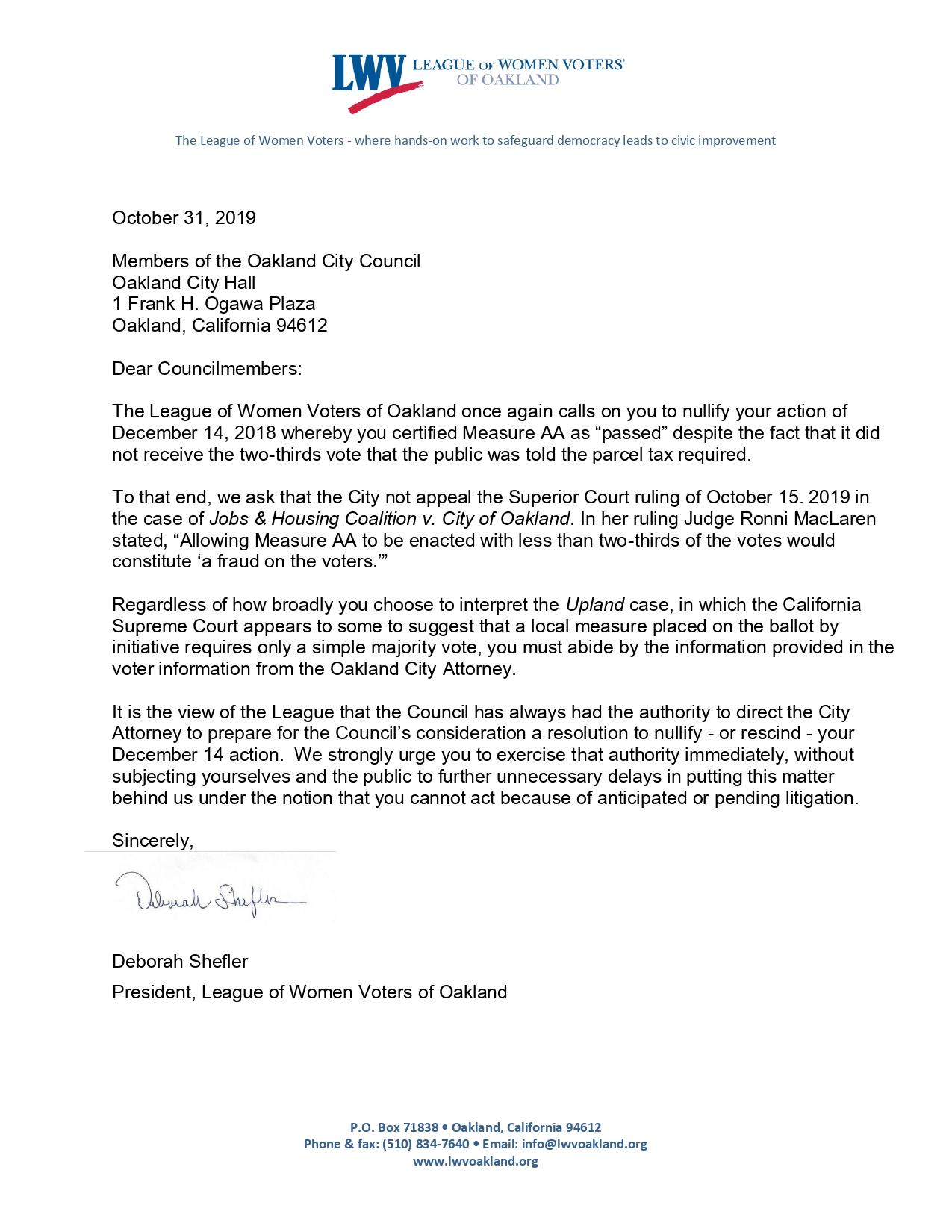 MacLaren ruled that "the City is barred from enforcing Measure AA because the ballot measures prepared by the City unambiguously advised voters that Measure AA would require two thirds of the votes to pass. Allowing Measure AA to be enacted with less than two-thirds of the votes would constitute 'a fraud on the voters.'"
The court also ruled that the City's rationale for certifying AA as having passed with only a simple majority vote because it was a citizen initiative was not applicable. That issue is also under litigation in other jurisdictions and will eventually be determined by the courts. Oakland is unique in having changed the rules after the election, and LWVO anticipates that the City will use Judge MacLaren's decision to put an end to the saga of Measure AA.
LWVO sent a letter to the City Council requesting they NOT appeal this ruling.
League to which this content belongs:
Oakland