LWVUS Is Working to Make Voting More Flexible and Provide Emergency Assistance. We want you to know that the League of Women Voters of the United States is in the forefront of organizations aggressively urging jurisdictions around the country to adapt their voting procedures to the current situation, and pushing Congress to adopt emergency assistance policies.
 
Flexible Voting Provisions
Your membership in LWVUS is supporting important voting initiatives around the country. Whereas in California we enjoy - and perhaps take for granted - no-excuse absentee voting, early voting, online and same-day registration, this is not the case in many other states. And while we have completed our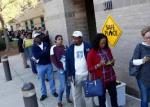 primary
election, other states have not. Polling places around the  country have closed or opened late as poll workers
 failed to show up, resulting in long lines of voters
 that violated CDC social distancing guidelines. Some states have postponed their primaries.

The LWVUS is prioritizing outreach to Leagues in states with upcoming primary elections. It is calling on these states to expand no-excuse absentee voting and mail-in ballots, as well as in-person early voting opportunities for the duration of the 2020 election cycle. The League is emphasizing how imperative it is for state election officials to address voters; and poll workers; legitimate fears by limiting the need to cast an in-person ballot and reducing long lines when there is voting in person. LWVUS is keeping its election website up to date with state-specific alerts for new election dates, changes to polling places, changes to early and absentee voting rules, etc.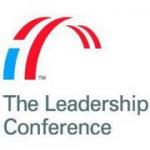 It has joined with the Leadership Conference on Civil and Human Rights in a letter urging federal lawmakers and state elections officials to adopt policies and election reforms to ensure both the public's safety and the orderly conduct of the 2020 primary and general elections in light of the current threat posed by COVID-19.

Emergency Assistance
LWVUS has sent a memo to Congress urging the House and Senate to support policies for communities, families, and workers experiencing hardship during the pandemic. Among the policies it supports:

 Paid sick leave and emergency paid leave benefits, including to allow parents and guardians the flexibility they need to care for their families.

 Feeding families, children and low-income jobless workers through emergency Supplemental Nutrition Assistance Program (SNAP) assistance to jobless workers and families with children who would have received free or reduced-price school meals if their schools had not closed.

 Emergency unemployment compensation.

 Requiring that private health plans provide coverage for coronavirus diagnostic testing.

 

Deborah Shefler, President LWVO
League to which this content belongs:
Oakland