Our annual All-City Luncheon will be held at the Oakland City Center Marriott Hotel, April 11, 2019 at 11:00 a.m.  Rosie Rios, the 43rd Treasurer of the United States, will be the keynote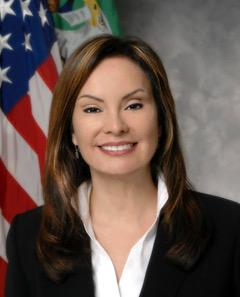 speaker.  Ms. Rios, who as US Treasurer was instrumental in leading the effort to have a woman's face on US currency (Harriet Tubman will replace Andrew Jackson on the $20 bill), was raised in Northern California and spent time working here in the Bay Area.   Read more about Rosie!
 Consider Pledging a Luncheon Table!
This is a popular event which brings together Oakland's business, education, labor, political and civic leaders in support of our city and the League's activities. Have your name listed in our Luncheon invitations, mailed to thousands of the East Bay's most influential companies, organizations, and individuals.
Your Luncheon Table Pledge will make possible the production of our Oakland Easy Voter Guide, Who Represents Oakland and the videos that have been so effective in educating Oakland voters.  We will be providing election information for the Presidential and local elections, helping to make the census count fair and complete, supporting reform of Proposition 13 to improve California's education system, and, last but not least, celebrating the 100th anniversary of the founding of the League of Women Voters.
Our All-City Luncheon is our primary fundraiser and in 2019 we will have plenty of work on our hands. Join us in ensuring that Oakland Votes Informed by hosting a table at our All-City Luncheon.
Questions? Please contact LWVO Development Committee Chair Lori Lieneke at Development [at] LWVOakland.org 
League to which this content belongs:
Oakland