Development Committee
The Development Committee's purpose is to raise funds to help LWVO fund its major election projects:  Oakland Easy Voter Guides in English, Spanish, and Chinese and Pros and Cons Videos explaining Oakland and Alameda County measures on the local ballot.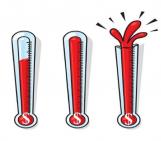 The primary fundraiser is the Annual All-City Luncheon, held each spring, requiring months of advance planning and promotion and featuring a high-profile speaker. Additionally, the Committee executes the annual year-end appeal to members as well as specific targeted fundraisers.
Contact us at development@lwvoakland.org for info!
Development Accomplishments in 2018-2019
End-of-Year "Quiet Appeal":  Donations as of March 2019:  $8,424   (2018:  $7,793 and 2017:  $6,100)
2019 All-City Luncheon:  On April 11 the Grand Ballroom of the Oakland Marriott was buzzing with activity from local leaders from the business, civic, labor, political, and education sectors as they gathered for the League's 28th All-City Luncheon.  Our emcee, Dr. Elnora Webb, welcomed guests and invited Oakland's Youth Poet Laureate, Leila Mottley, to share her opening poem and Mayor Libby Schaaf to give opening remarks.  Making Democracy Work awards were presented to Building Opportunities for Self-Sufficiency (BOSS) and New Voices Are Rising.  Our keynote speaker, Rosie Rios, 43rd Treasurer of the United States, captivated the audience with her talk, "Inspirations and Aspirations:  Using History to Influence our Future."   Proceeds from the event totalled over $23,000.
League to which this content belongs:
Oakland
All Posts Related to this Committee