Education Committee
Education Committee
The Education Committee supports measures providing a system of quality education that is adequately financed and is responsive to the needs of all the children of Oakland.  The Committee meets monthly on every 1st Monday of the month from 5:30-7:30 PM at the LWVO Office and/or on Zoom.  Contact us at education [at] lwvoakland.org ().
Learn More About Us:Education Committee Manual I Education Position
Education Committee Goals: 2020
We set 3 primary goals to focus on for 2020, leading up to the elections. We also agreed upon the benchmark actions we will need to take in order to achieve these goals. We set up subcommittees of members to work towards each goal and created Gantt Charts for each goal to set up and visualize our timeline and benchmark tasks. 
Educate voters before they vote in the

November 2020 elections

on the four district OUSD Board members (Districts 1,3,5, 7) up for election

Educate voters before they vote in November 2020 on the

Schools and Communities First

ballot measure through communications, attending/hosting events, fundraising, and advocacy

Speak at at least two school board meetings about the following LCAP goals and use what we learn to develop questions for the 2020 school board candidates: 

A-G Completion for all subgroups (1.3)

Grade 3 reading for all subgroups (3.1)

Decrease the rate of students missing 10% or more school days (5.2)

Teacher mis-assignments (1.11)
Education Committee Accomplishments: 2019-2020
Internal Structure
In the past year, we have had five new members join the Education Committee and one member leave. We are delighted by the contributions of the new members and know that our perspective will be enriched because of them. Additionally, we are proud that our committee and the new members of the committee reflect the diversity of our city and the League's diversity goals. 

The Education Committee established a set of meeting agreements based on the League's covenant. We assess our participation and the meeting using these agreements.

We do this work honestly 

We honor the work that we are tasked to do

We listen appreciatively

We speak with care

We honor our differences 

We assume good intentions

We stay on task 

We ensure equitable voice in conversation

We start & end on time

We revisited the League's Education Position and have made initial progress in reshaping it after the election, for 2021. 

In March, Mirella Rangel stepped down from co-chairing the Education Committee and in April, Jignasha Padya stepped up to co-chair alongside Rebecca Haskell, who remained in her role. The Ed Committee deeply appreciates Mirella for the many leadership skills that she brought to the Ed Committee - especially facilitating the meetings and for the many signatures she gathered. We are very happy that she will be staying on as a committee member. Yolanda Schonbrun moved to Napa and we thank her for her many years of dedication to the LWVO, especially the Ed Committee. We will miss her in Oakland and wish her well. We are very pleased that Yolanda has been asked to serve on the Napa LWV Board.
Schools & Communities First ("SCF")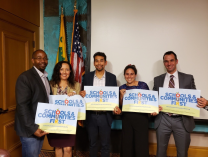 Nina Senn, the SCF Lead -  LWVO and LWV Bay Area and member of the Action and Programs Committee organized a panel to discuss the Prop 13 Reform initiative scheduled for the 2020 Election: Schools and Communities First on Wednesday, September 25, 2019 at Oakland City Hall. Moderator: Ed Committee Co-Chair, Rebbeca Haskell. Panelists: Ben Grieff, Political Director of evolve-ca, Council Member Loren Taylor, ACOE Chief of Staff Dan Bellino, and Nina Senn (former OUSD School Board Member). It was well attended with over 50 people in attendance.

Members of the Education Committee along with other LWVO leaders reached out to organizations and individuals to  endorse Schools and Communities First. Notably, ACOE Supt. L. Karen Monroe, ACOE Trustee Amber Childress, NAACP - Oakland leaders, PTAs, Kiwanis, and Quakers. 

Members of the Education,  Action Committee, the Board and other LWVO members and volunteers gathered signatures for the campaign's revised ballot language to appear on the November 2020 ballot contributing to the historical statewide campaign aggregate of over 1.7 Million gathered signatures. LWVO and LWVDV collectively gathered about half of LWVC's total contribution of signatures to the campaign and exceeded the LWVC goal. Due to our signature gathering efforts, LWVC Civic Engagement Coordinator called both chapters "powerhouses."

LWVO Ed, Voter Service, Action Committees and the LWVO Board had representation at key local events: GenUp Rally, Women's March, Oakland Turkey Trot, March 4 Action, Farmer's Markets and the Mills College Panel moderated by Assemblymember Rob Bonta.

Nina is excited to be working with two summer interns from Mills College focused on SCF thanks to a generous grant from Mills College. This grant was made possible by former Secretary of State, Assembly Member and ACOE Board Trustee March Fong Eu. It is important to acknowledge that March Fong Eu was the first Asian-American woman elected to a state legislature and constitutional office in the U.S.
League to which this content belongs:
Oakland
All Posts Related to this Committee