Join or Renew Online

Click the button at left to join or renew online using PayPal and your credit card. A PayPal account is not required.
Renewing a pro-rated membership?
If you are renewing your membership and joined "mid-year" your dues are pro-rated; see our pro-rated renewal chart, then use our online Donation page to make a pro-rated payment by credit card.
We'd like to get to know you!
Please complete the Online Interest Survey so that we can know how you would like to participate.
Join or Renew by Mail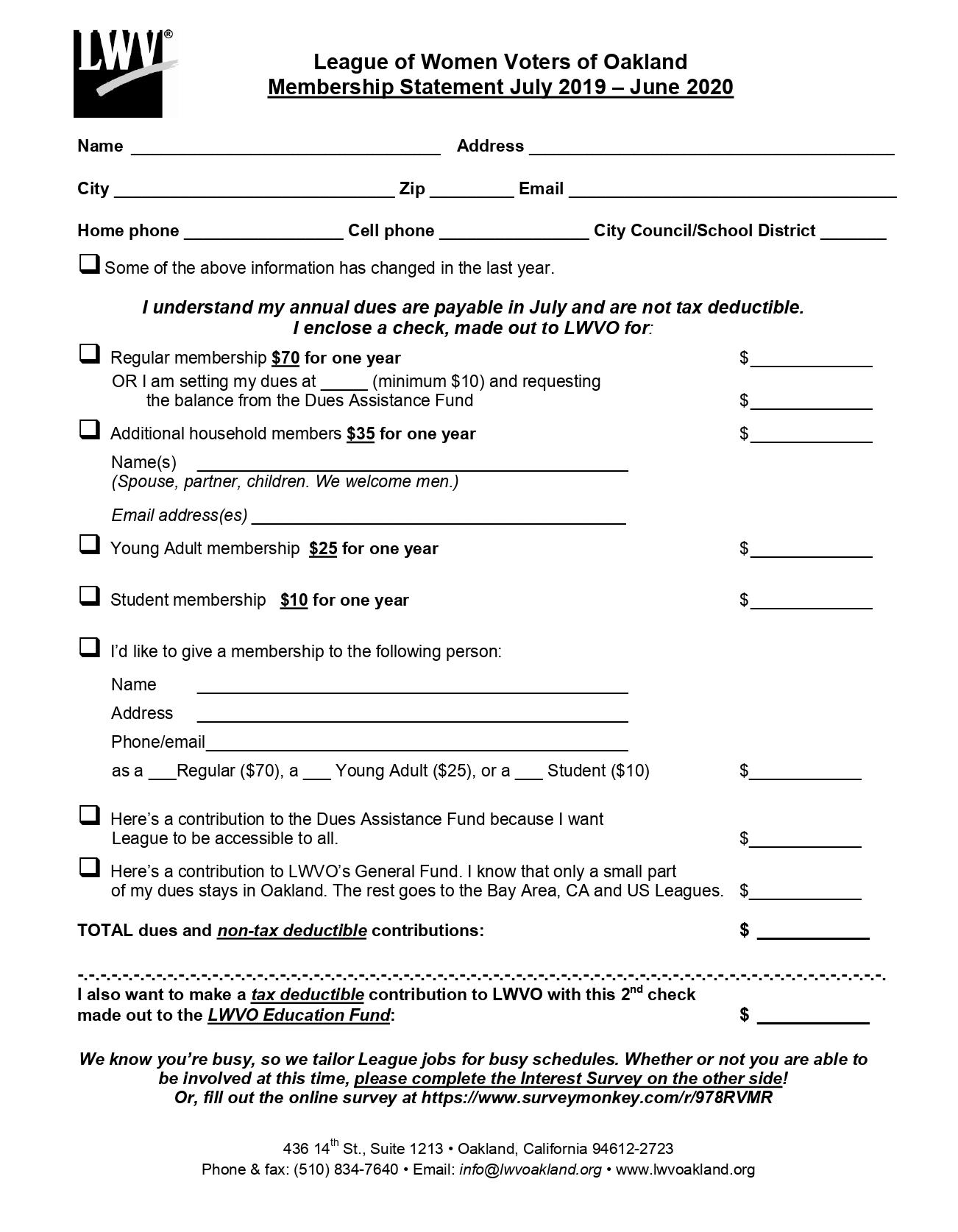 1.  Print and complete 2019-2020 Membership Form.

2.  Print and complete
2019-2020 Interest Survey.
3.  Please send us the completed forms with your check.
 Contact us with any questions. 
Prefer to Donate?
You can donate online using PayPal, without joining our organization. We would appreciate your support.
Why Should I Join?
Almost half of regular $70 dues--$32--goes to support LWVUS, our national organization.   Another $28 goes to LWVC, our state organization.  And $2 goes to support LWVBA, our regional organization.  LWVO retains only $8!  That's why LWVO's fundraising activities, particularly the All-City Luncheon, are so important.  That's how we fund activities that benefit the Oakland community.  
When you renew, you are contributing to national state, regional, and local organizations that work hard every day to make a difference in the political future of our country.
What Do I Get?
You automatically become a member of the Bay Area Inter-League Organization, LWV California and LWV of the United States. You will receive their publications along with the newsletter from the Oakland League of Women Voters called the VOTER which is usually published twice each year.  Sign up for our e-blast newsletter!  You will have the knowledge that you are adding your voice to a powerful force of members from all 50 states, Washington DC, the Virgin Islands, and Hong Kong.