. Oakland Chamber of Commerce 
We are SPUR, the San Francisco Bay Area Planning and Urban Research Association. We bring people together from across the political spectrum to develop solutions to the big problems our cities face. With offices in San Francisco, San José and Oakland, we are recognized as a leading civic planning organization and respected for our independent and holistic approach to urban issues.

NCBW is committed to providing programs that increase the participation of African American women in economic, civic, entrepreneurial, and human service arenas of their respective communities through education, scholarship, and collaboration.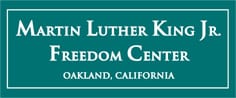 MLK Freedom Center promotes civic engagement, and endeavors to preserve, protect, defend and define America's representative democracy.  It is vital that citizens of all ages learn and listen, converse and consider, activate and participate.