Many gears are turning behind the scenes at LWVO. Our new grant-funded Strategic Plan is steadily moving towards implementation, and the way we communicate and offer our services are being streamlined. Our greater vision is to serve more residents of Oakland even better.
Capacity-Building Grant - Alameda County Probation Department
Read Minutes from the Latest Grant Meeting 
here!
What is the grant?
The Alameda County Probation Department has awarded the League of Women Voters of Oakland a two-year capacity building grant for approximately $68,000. LWVO is using this money to enhance its ability to encourage informed and active participation in government.
Due to criminal justice reforms over the past few years, the responsibilities and resources of the Department have expanded. The Department is addressing its increased workload in part by awarding approximately $20 million in grants to community-based organizations like LWVO to help them enhance their capacity to improve outcomes for citizens reentering the community after serving time in prison. LWVO is investing its grant money in our organization so that we can sustainably and effectively encourage the entire community, including the reentry population, to become more civically engaged.
Please refer to Alameda County Probation Department and Alameda County Health Care Services Agency for further information on the origin and funding of this program. Refer to documents below for more information about the grant. 
Strategic Plan Stewardship Group Appointed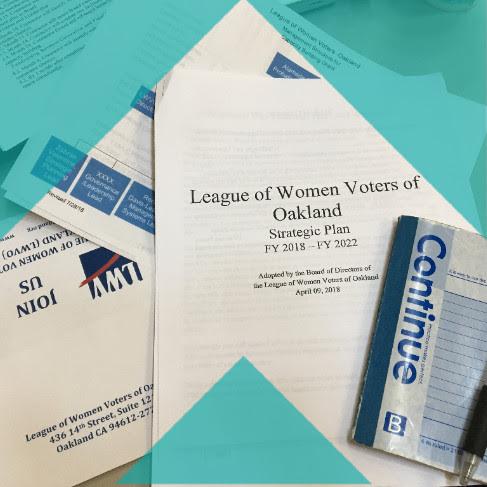 At the June 2018 Annual meeting, the board discussed the recently approved LWVO Strategic Plan and implementation strategies for goals set forth in the grant. Board members broke into small groups to identify specific tasks and suggestions of action for each goal.
To continue this work, the Grant Guidance Committee has appointed a Stewardship Group whose job will be to shepherd the League's Strategic Plan through its implementation.  It will make sure that the plan is on track and report at the monthly meetings of the Board.

Members of the Stewardship Group are: Elaine Ginnold, Chair, Louise Rothman Reimer, Treva Reed, Amy Lyons and  Mary Bergan. Jen Cardenas will be the resource person along with Theresa Nelson and Mony Bauer as back up.  
See LWVO's Grant Application and Policy Guidelines.