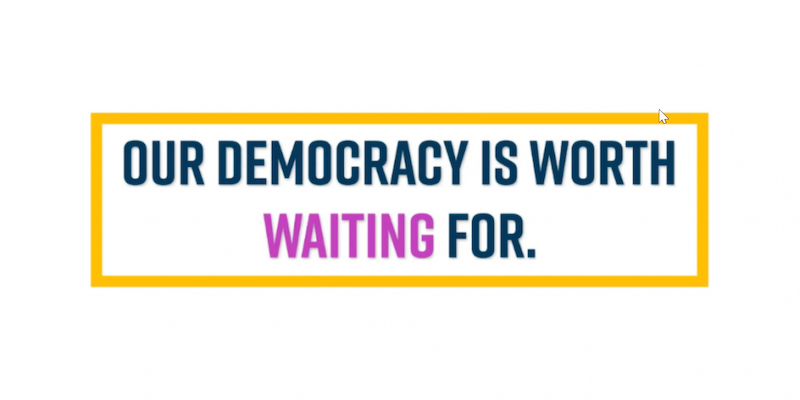 Democracy is Worth Waiting For
by: Petti Van Rekom, LWVUS National Civil Discourse Task Force and LWV Orange Coast member

We know that many of you are concerned about the election process and results. Therefore, we want to provide you with resources that may help.
First, please make sure that voters know that results most likely will NOT be known on election night. Ballot counting processes vary by state (see resource below); thus, it may be days before a final result of the popular vote is known. Patience is called for. We want to spread TRUST in the election process and maintain civility.
Here is a message from LWVUS that you can share with others:
Democracy is worth waiting for. As we wait for votes to be counted, we know that this waiting period is exactly what should be happening. Election officials are working around the clock to count an unprecedented number of ballots, and it's essential that they take the time to make sure every vote is counted. Remember: a complete and accurate ballot count is more important than a fast ballot count.
As you wait for the results, here are some key resources for you:
In addition, here are some things you can do:
Use your personal network and/or social media to spread positive messages about the election. Encourage them to have patience and to look at credible, reliable news resources (like our website, https://lwvorangecoast.org.)
Monitor your social media to see if any incorrect information is posted – if so, respond civilly to the post.
Write letters to the editor of local and online news organizations to tell people about how we count the vote in our state, and reassure the public that the process is as safe and accurate as possible. Perhaps point them to trusted sources of information.
If you see or suspect that something wrong is happening at a Voting Center, or you encounter obstacles to voting, call the national, nonpartisan Election Protection coalition at : (866) OUR-VOTE or (866) 687-8683.