LWVUS Convention 2020 Part Four – The LWVUS Has Been Doing What We Love!
Blog Post Date - July 22, 2020
The Biennium Impact Report: Convention attendees heard about the League's work in the 2018-2020 biennium, including: 
Increasing League capacity at all levels, from fundraising to investing in data systems to measure our impact; and 

Increasing League visibility – a notable example being the She is Me Campaign https://www.lwv.org/sheisme  - a digital campaign to celebrate League work through the personal stories of our powerful members.
Much of the report focused on the League's core work:  Making Democracy Work – which includes work to improve voters' rights while fighting back challenges to those very rights throughout the country. In this work League lobbies, educates, and litigates on a variety of issues, including the following:
Protecting Voters' Rights;
Addressing the Negative Role of Money in Politics;
Redistricting – Creating Fair Maps;
Supporting a Fair and Accurate Census;
Supporting the Equal Rights Amendment;
Supporting the National Popular Vote Interstate Compact; and
Making Democracy Work Internationally through the United Nations Observer Corps. This work is possible because the LWVUS enjoys UN Special Consultative Status through the UN's Economic and Social Council.
Caucuses: Among them, our five delegates - Becky Newman, Diane Nied, Patty Santry, Judy Standerford and Petti Van Rekom - plus Kathleen Montgomery, our Director of International Relations and Pam Mortenson, one of our members, attended a total of 21 different Caucuses and filed 46 individual reports on them using a Google Form devised by Patty Santry.
We expect to post some articles about them on the website and will find other ways to share the information.
One of my personal favorites was called Engaging Non-Voters and Seldom Voters in Lowest Turnout Precincts. The focus was on how Leagues have worked to engage non-voters and, especially, folks who seldom vote in low-turnout-precincts.
The host League was LWV Port Washington-Manhasset, an area located on Long Island, in New York. Like many Leagues, it was a League of mainly affluent older white women. Where their members lived, voter turnout was 85% to 97%, so there was not much call for "getting out the vote" in their neighborhoods.
However, In 2016 they identified the 30 lowest-turnout precincts in their area, where only 0-24% of registered voters had voted in the previous election.
They focused on 5 of the lowest turnout precincts, encouraging other grassroots organizers to do likewise. In 2018, turnout rose by as much as 30 points. In a 2019 local election, they canvassed proud voters who now encourage others to vote.  The caucus also allowed plenty of other Leagues to talk about their own efforts to do this. Lots of great ideas!
July is slipping away, but check back for future updates.
****
LWVUS Convention 2020: Nuts and Bolts
Blog Post Date - July 17, 2020
Today's blog continues a report on the Convention with a focus on our national League's finance and government - the "nuts and bolts" of any organization.
Budget:
There is no change in PMP – it is still $32 per member.
The LWVUS and LWV Ed Fund are financially strong.
Financial performance in the 2018-2020 period outperformed what was approved at the last Convention by more than six-fold.
Reserves exceed $11 million, nearly $5 million above requirements.
Due to the pandemic and the many current challenges to our democracy, we are still drawing down reserves but our fiscal status permits this.
Bylaws Changes:
Students are now defined in our Bylaws as "individuals enrolled as either full or part time with an accredited institution."
Leagues do not have to pay PMP for students.
There is a new statement of regulations for dissolution of a League upon withdrawal of recognition.
There is a new statement clarifying that Board members must uphold applicable laws and regulations, but also League bylaws, mission, policies, principles, Positions, standards, and procedures.
Coming up next time: Caucuses - stay tuned.
****
We've Got a Plan!
Blog Post Date - July 8, 2020
National Program:
In the 2020-2022 Biennium the LWVUS National Program focus continues to be on Making Democracy Work. but we also adopted two new Positions by Concurrence:
A Position on the Transfer of Federal Public Lands, which begins: "The League believes that federal public lands should benefit all Americans. The lands should remain under the jurisdiction of the federal government and be managed according to the Multiple-Use and Sustained-Yield policy. We support improvements in management and regulations."
A Position on Electoral Systems - here is the "Position in Brief": "Support electoral systems at each level of government that encourage participation, are verifiable and auditable and enhance representation of all voters."
We also added one item to the Program: Supporting the abolition of the electoral college by Constitutional amendment.
We also adopted three resolutions - we:
Reaffirmed our commitment to immigration reform and support for laws that provide efficient and expeditious systems for immigrants to enter the United States.
Approved a resolution for an immediate mobilization to fight climate change.
Adopted an emergency resolution for advocating against systemic racism in the justice system and, at minimum, preventing use of excessive force and brutality by law enforcement. 
Still to Come:
Budget & Bylaws; and
Caucuses. 
Watch this space! 
****
We've Been Working for Democracy: Coast's Team is Back from the LWVUS Convention!
Blog Post Date - July 7, 2020
Five delegates and some additional members of Coast participated in the LWVUS Virtual Convention, June 22-27 and various pre-convention meetings, trainings, and activities! 1,267 delegates were present at Convention, from all 50 states, DC, and the Virgin Islands.
Our delegates were Becky Newman, Diane Nied, Patty Santry, Judy Standerford and Petti Van Rekom. Kathleen Montgomery served a moderator for two of the caucuses, several people were able to register as Observers and they and several other members attended one or more caucuses.
Convention Got Off with a Bang - the Pre-Convention Lobby Day, June 25, 2020:
Lobby Day was held the day before the convention officially opened – and seven years to the day since the Supreme Court rolled back provisions of the Voting Rights Act of 1965 (Shelby County v. Holder). The Voting Rights Act had required 9 states and a variety of other jurisdictions to have changes in their election laws get advance federal approval, due to past histories of racially discriminatory laws and practices. The Court essentially declared that it was no longer necessary because in the current era there were no such discriminatory laws.
As we know, that hasn't worked out too well.
The League has long been active in the battle to restore the Voting Rights Act and on Lobby Day Leaguers made calls to Congress, wrote more than 2,000 letters to Congress and had 175 posts on Twitter earning more than 1,500 "engagements" (likes, shares, etc.) and being seen 82,700 times!
Watch this spot for a series of Convention Updates for the next several days!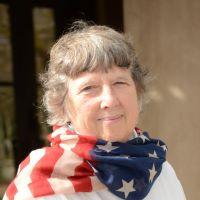 Becky Newman