Steady as She Goes:
Blog Date: 11/01/20
We seem to be living in a tempestuous era – as if the fires this week were not enough, we also find Covid19 surging and many expressions of concern about the state of the country and our democracy. We hear of incidents at polling places and others involving ballot boxes.
It can be hard to maintain our equilibrium – but maintain it we must.
We continue to hear that America is hopelessly divided, that our country is on the brink of disaster. I believe that these are, indeed, challenging times, but, as I wrote last month, I continue to believe in us – all of us – and to think that we are capable of finding new ways to "all get along."
Some years ago, I met a much younger cousin for the first time – about the age of my own children but now with children of his own around the age of some of our grandchildren. Politically we could not have been farther apart.
Hopeless?  No.
Their home is open to family in need  – as we sometimes open our home to others.
His wife and I shared a fierce dedication to children's right to personal creative choices – we both had created book production facilities for children in public schools where we served and felt the books should be created by the children – not merely always for some curricular purpose.
He longed to know the grandmother whom I had dearly loved and whom he had never met.
They worry about their kids and our extended family – and continue in loving relation to a beloved cousin of mine with whom I have much in common politically – and they do not.
There has got to be a way for all of us to remember things like this about each other and find our way back to a more civil union.
I will end this reflection with some words from Marian Wright Edelman's prayer "I Care and am Willing to Serve." You don't need to be religious to find them inspiring.
I do not have Harriet Tubman's courage
or Franklin Roosevelt's political skills
but I care and I am willing to serve.
And
I am not brilliant like Elizabeth Cady Stanton,
or as eloquent as Sojourner Truth and Booker T. Washington
but I care and I am willing to serve.
I hope to live up to these words and to keep searching for words and actions to help us find firmer footing at this difficult time and a way to work back to recognizing our common humanity and working together to solve the problems we all face. I care and I am willing to serve.
* * * *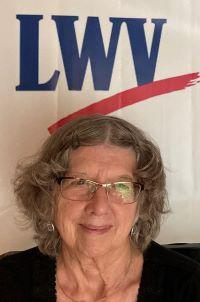 Becky Newman