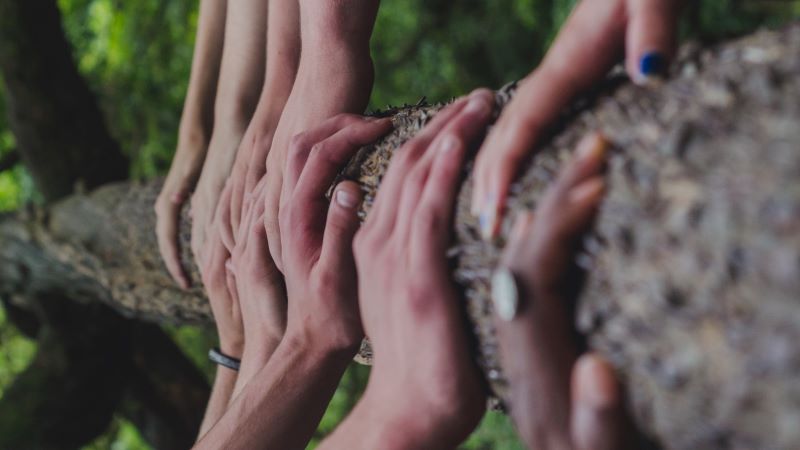 We are fellow Americans
October 14, 2020
We are fellow Americans.
We share the gift of self-government that was made possible by the sacrifice of millions over the centuries. With that gift comes responsibilities.

Whatever the unusual obstacles in this surreal year, we must follow the dictates of our own conscience and cast our vote.

We must seek and support a fair and peaceful resolution of any genuine disputes about the results, resisting calls to settle differences through violence from whatever side they come.

Both before and after the election, we must both advocate and listen across our political differences, dialing back the malice, and increasing the charity that we show toward one another.

As custodians of the gift of American self-government, we owe this faithful discharge of our responsibilities to the next generation of Americans.
Keith Allred, Executive Director, National Institute for Civil Discourse.
* * * *
It's Still America the Beautiful
Blog Post Date - 10/03/2020 
Reflections on Our Divided Country:
Not quite ten years ago today, my husband Riley (also a League member!) and I finished a nearly 4,400 mile journey by bicycle across the United States – literally from "sea to shining sea."
We left from Seaside OR on May 9, 2010 and ended up in Portland, ME on October 13, 2010.
We road alone – just the two of us, not as part of a tour group and without any accompanying vehicle.
We followed late spring, summer and early fall across our vast and beautiful country.
It was, as you can imagine, an amazing experience and had a profound effect on us.
Our Trip is Still Relevant:
I write about it now because it was at a somewhat similar time in the life of our country – right in the middle of the Great Recession of 2007 – 2009. The stock market had crashed, mortgage companies and banks were failing or in need of rescue, and all the news was scary.
We were cycling "off the beaten track," mainly through small town and rural America at a time when many folks were hurting badly economically.
Towns had lost grocery stores and other local businesses – crowded out by big box stores 30 or more miles away or simply unable to stay open.
Many young men and women were coming home in body bags – most of the small towns we passed through had flags at half-mast in honor of a recently lost veteran.
As in our inner cities, the best job option in small town and rural America is often the military.
Reassurance from America's People:
When we started, we worried about how a couple of highly-educated elderly hippy-types (63 & 70) with nice bikes and equipment and enough time and money to take a VERY long vacation would be received – and whether we would find a country in despair.
In short – without exception, we were received with open arms and generosity.
People were friendly and generous with their time, and bottled water, and help with directions, and offered a helping hand when we needed it.
People were optimistic.
Businesses were closing – but new ones were opening.
People still looking for work were doing wonderful volunteer work.
The arts were thriving in many small towns.
Small towns were sprucing up and working to attract tourists.
Hearing America's Stories:
Most of all, people whose lives had been very different from ours;
Whose politics may well have differed from ours;
Shared their stories with us in remarkable ways and sometimes engaged amazingly deeply with us in talking about their hopes, fears, worries and beliefs.
Some Stories from the First Half of the Trip:
We had a long, deep conversation on a little ferry in OR with the owner of a tugboat company in Alaska. Years of working on boats using gasoline as a solvent for cleaning machinery had left him with a severe case of lead poisoning – cycling was one way he was struggling to recover the use of a badly damaged leg. We probably had different views on many things but we were on the same team on that issue.
Filipino immigrants – a married couple working as the housekeeper and janitor of a little motel in Moses Lake, WA - also had a big garden behind the motel and were selling Asian vegetables to restaurants in town. I had a great conversation with the woman and as we left she presented us with a bag of beautifully dried Fuji apples (her product) – admonishing us to eat them instead of chips and junk food when we needed a snack.
We worked alongside a forest service volunteer picking up fallen rocks on a road in MT and somehow got on the subject of immigration. Our views were pretty different, but we had a respectful conversation and parted friends. Folks who love nature and volunteering do not all belong to the same political party.
We stopped for coffee at a bar near East Glacier, MT. Mark, perhaps 25, was behind the counter; he and his Grampa Jerry were the owners. Mark also did LOTS of fishing. Our conversation ranged over many topics – and Mark presented us with 2 frozen fish wrapped in foil to roast in a fire. When he learned that we weren't going to be camping that night he charged us fifty cents for the big Butterfinger we bought and said the coffee was on the house.
A bar owner in Inverness, MT where we stopped for coffee, ended up telling us a deeply moving story about a school closure in their town.
In tiny Hitterdal, MN Jerry and Liz were staying at the B & B where we were – Liz was entering a ton of stuff in the county fair - a BIG hobby for her, although she also works fulltime. Jerry, a carpenter, was laid off and still looking – even the retraining programs had waiting lists (which he was on). In the meantime, he was keeping the home fires burning, volunteering as their church custodian and had gone on a mission trip to build houses in the Philippines.
That B & B was another story in itself. It was the only place to stay in that tiny town, and was created from an old building by Wanda and Carl Erickson, doing all the work themselves, just for something to do after they retired from their day jobs to the farmstead on Carl's family farm, where they had lived for many years. Carl's first responsible "job" was at age 6 when he went to help an uncle with planting by driving the tractor and Wanda's story was similar. We were invited out for coffee and cake and spent hours talking about our families, our lives, and our worries.
Summing it Up:
We had coffee and dessert in Stillwater, MN with Don and Ginny, another cross-country biking couple, considerably younger than we.
We talked about riding at this time in the life of our country.
Don said that if he had to sum it up in one word, it would be "reassuring."
We knew immediately what he meant.
By and large, people are honest, good, friendly, and well-intentioned.
This country has its problems, but also many strengths.
We may differ but we are also alike in so many ways.
What's to be Done?
Today our country is even more deeply challenged, facing a terrible pandemic and a deeper economic crisis.
Worse yet, we seem to be divided beyond repair.
I refuse to believe people have changed so profoundly in ten short years.
We were privileged to see the beauty and the effort - and the work still to be done - across a vast cross-sectional slice of this country in a unique and deeply personal way - and still hope to see our country fulfill its great promise.
We'll try to do our part – working for change but refusing to give up on hope; and
Working to meet our fellow countrywomen and men as members of the same team.
Isn't that the League's mission?
* * * *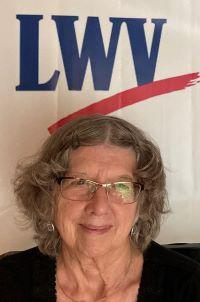 Becky Newman