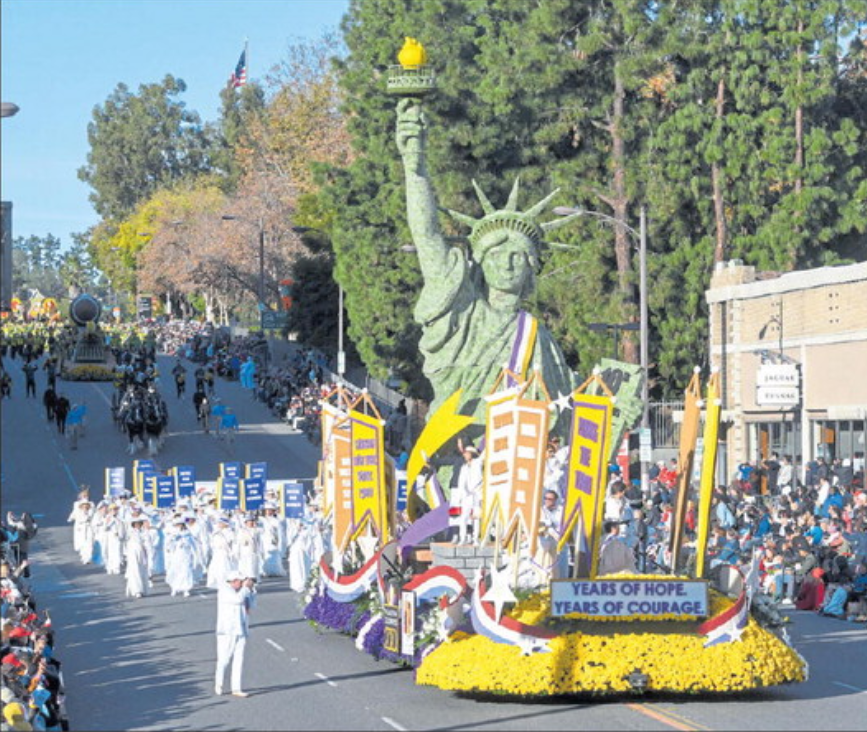 LWV Participates in 2020 Rose Parade
by Wendy Ralph
The Pasadena Area, which includes the LWV of Pasadena, partnered with the Pasadena Celebrates 2020 group who sponsored this float in the New Year's Day Rose Parade. The theme of the float was the 100th year celebration of the 19th Amendment - commonly referred to as "A Woman's Right to Vote."
The Pasadena Chapter organized a committee to work December 28th decorating the float. They asked for volunteers from LWV chapters around the area. Over 80 members and their guests (20 from Orange Coast Chapter alone) answered the call and headed to Pasadena in carpools. It was a glorious day, a bit cold, but we all had a wonderful time helping our fellow Leaguers throughout the area cut, glue, and paste flowers, leaves, seeds and other organic material to this magnificent float.
The group invited two national members of the League to ride on the float. The League also participated by purchasing roses and becoming outwalkers.
Then a wonderful surprise, the float the League helped to assemble, won the Theme Trophy for The Most Outstanding Presentation of the Rose Parade Theme. The theme this year was "The Power of Hope."
Float Decorating Day Photos