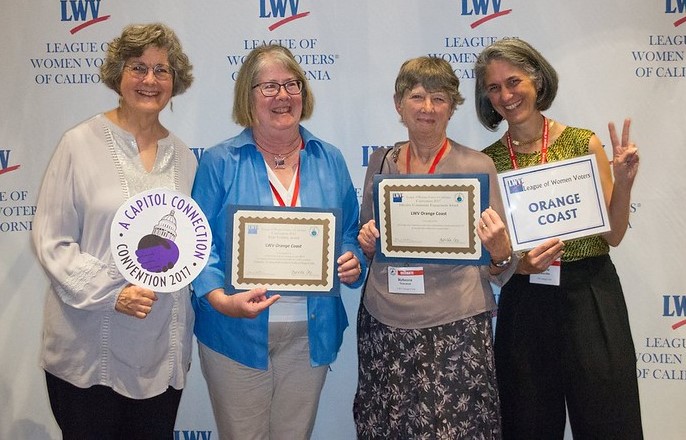 Location
Westin Pasadena Hotel
Pasadena
California
91101
California US
Friday, May 31, 2019 - 10:00am

to

Sunday, June 2, 2019 - 12:00pm
What: The 67th State Convention of the League of Women Voters of California
When: 10 am, Friday, May 31, through 12 pm, Sunday, June 2, 2019, with a special pre-Convention event on Thursday, May 30, 2019.
Where: The Westin Pasadena Hotel, 191 North Los Robles, Pasadena, CA 91101    Phone: 626-792-2727
Who: Attendance at Convention is open to everyone; we encourage all members to attend and are eager for the public to come learn about the League.
The purpose of Convention is to inspire and empower Californians to increase their active and informed participation in civic life. Come meet passionate people from across the state who are making democracy work!
Read more about speakers, workshops, special activities, and more on our site: http:// lwvc.wordpress.com
A range of activities is available to suit any schedule or budget, from investing in a full three-day registration to treating yourself to a special pre-Convention event. Check out your options now— early bird registration begins March 1, and ends on April 30.
The Westin Pasadena Hotel is offering a special room rate of $179 per night—but you must book by April 30 to secure this rate. Visit the Convention website to book online, or you can call the hotel and mention the LWVC Convention. Don't get caught without a room by waiting until the last minute; rooms may sell out before that date! - LWVC President, Helen Hutchison
Additional Info for Coast Members:
About Delegates: 
Delegates are expected to attend the full two and a half days of the Convention and to participate in creating written reports from the delegation to the membership. Only delegates may vote.
Coast is entitled to send the president and five additional delegates; of which four have already been named by the Board.
Coast pays Convention registration for its delegates but they are responsible for covering their other expenses – although the LWVC offers some scholarships – see the convention website.
Please contact Becky Newman (president@lwvorangecoast.org or 949-786-1669) if you are interested in being a delegate!
About Attending Convention Without Being a Delegate:
You can attend Convention at the regular price without being a delegate.
One day registration for Convention is $125.
Registration for the full-day pre-convention workshop - Let's Talk About Power: Exploring Race, Identity Formation, and Organizing – is $35.
For more information, visit the Convention website to book online
Attention Wine Drinkers:
Here's a unique way to support the LWVC Convention. The LWVC is seeking donations of bottles of wine that will be either used for the Saturday night banquet, and/or a "wine pull" as 8 part of the silent auction fundraiser. If you have a bottle of good quality wine to donate, please contact Becky Newman (president@lwvorangecoast.org or 949-786-1669) for details.