Former RHE City Council Member and Mayor
Sheltered from the brutal June sun, Nell Mirels works tirelessly, organizing piles of donated books in the book sale area on the second level of the Peninsula Library. To a mere passerby, Mirels is just an older library volunteer with a kind face. To the League of Women Voters, however, Mirels is a dedicated member and one of the League's most compelling success stories.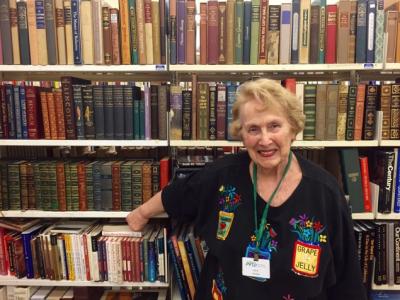 As a substitute teacher and mother of three, Mirels was an odd political candidate. Nevertheless, she had always held interest in the League of Women Voters, due to her mother's involvement, and joined in the late 1950's in Cleveland, Ohio. Later, Mirels moved to California and her involvement in the Palos Verdes League led to her involvement in local politics. The League sent Mirels to Rolling Hills Estates City Council meetings, which spiked her interest in local politics and got her involved in the RHE Planning Commission. As a 17-year City Council member, several-time mayor, President of the Los Angeles division of the League of California Cities, and president of the Contract Cities Association, Mirels attributes her participation in government to her involvement in the League.
In addition to being a member of the League for over 60 years and secretary for the PV League, Mirels was president of the Friends of the Library and continues to volunteer with the organization, garnering over 1600 volunteers hours at the library alone. Mirels's past volunteer work included her involvement with the PTA when her children were young and her work at the PV Land Conservancy.
While Mirels has had a successful career in the League, she worries for its future due to its declining numbers in membership, since a majority of the members are senior citizens.
"For younger women, lifestyles are totally different," Mirels said. "[It is] typical that they don't have time" due to their demanding careers and families. Compared to twenty-first century women, women in the 50's had access to a limited choice of careers, like teaching and nursing, and therefore had more time for groups like the League.
In the future, Mirels hopes that the League can get more involved in local issues as well as more youth involvement. She also takes a bold stance on voting that she hopes to see is practiced in the future.
"I wish that there was a way to involve young people, including students," Mirels said. "I would like to see informed voters. If people don't know what they're voting about, I'd rather they didn't."