Information about voter registration and voting, your ballot for the next election and archives of candidate statements in past elections.
Easy Voter Guide

The Easy Voter Guide helps new voters and busy voters learn about how to vote and what will be on the ballot in statewide elections. It also helps people learn how to make change in their community.
Voter Information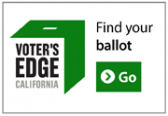 Voter's Edge CA: Key in your address and zip code, see the contests on your ballot. Then click away and find information on candidates and ballot measures. This nonpartisan online voter guide is brought to you in partnership from the League of Women Voters of California and Maplight. Archives of past elections available with election results.  
See more information on How to Vote in California: find more info on preparing to vote, voting (in person, by mail, if you've moved), voting rights, take a friend to vote, results of past elections, etc.
Register to Vote
Are you registered to vote? Do you want to change your party, your address, your name?
See information about registering to vote in California: deadlines, cost, requirements, how to register, political parties, registration drives, living overseas, etc.