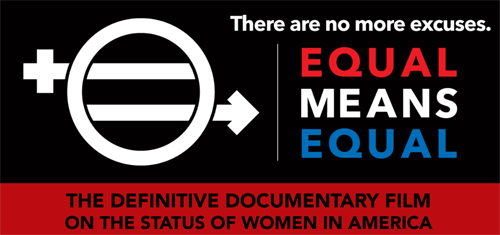 Location
Regal Theater Auditorium 8
92401
San Bernardino
,
California
United States
California US
EQUAL MEANS EQUAL offers an unflinching look at how women are treated in the United States today.
Examining both real-life stories and precedent-setting legal cases, director Kamala Lopez uncovers how outdated and discriminatory attitudes inform and influence seemingly disparate issues, from workplace harassment to domestic violence, rape and sexual assault to the foster care system, and the healthcare conglomerate to the judicial system.
Along the way, she reveals the inadequacy of present laws that claim to protect women, ultimately presenting a compelling and persuasive argument for the urgency of ratifying the Equal Rights Amendment.
To purchase tickets to the event please use the Donation Button and pay on line, or contact Scott Starbuck (909) 844-5992to purchase with a credit card
When paying on line choose either the regular donation or the Educational Fund for a tax exempt donation, please keep the conformation email for proof of donation for taxes and show this conformation at the door of the show for your ticket.
Contact Name:
Shirley Harlan
Issues referenced by this event:
Tags: