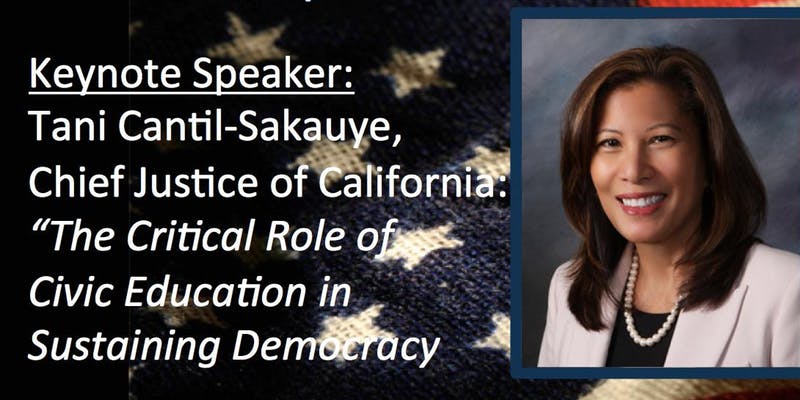 Location
Joan B. Kroc Institute for Peace and Justice
San Diego
California
92110
California US
Wednesday, April 17, 2019 -

8:30am

to

12:00pm
Description
Restoring Civic Literacy: Revitalizing Civic Education across our Community
"An educated citizenry is a vital requisite for our survival as a free people."Thomas Jefferson.
The focus for the Institute for Civil Civic Engagement's 2019 Conference is Restoring Civic Literacy: Revitalizing Civic Education across our Community. The conference will convene educational and civic leaders from across our region and state to discuss current best practices and strategies to improve Civic education and literacy for students and across our broader community. Democracies can die in an age of post-truth. This conference is a broad call to action to restore truth, facts and knowledge to our public discourse.
Featured Keynote Speaker: Tani Cantil-Sakauye, Chief Justice of California:
"The Critical Role of Civic Education in Sustaining Democracy"
Speakers and Panelists Including: The Reverend George Walker Smith, founder, Catfish Club; Constance Carroll, Ph.D., Chancellor, San Diego Community College District; James Harris, EdD, President University of San Diego; Gail Baker, Ph.D., Vice President and Provost, USD; Maria Senour, Ph.D., President, San Diego Community College District Board of Trustees; Stephen Ferruolo, JD Dean and Professor, USD School of Law; Tom Karlo, General Manager, KPBS; Cindy Marten, Superintendent San Diego Unified School District; Ricky Shabazz, Ed.D., President San Diego City College; Hon. Judith D. McConnell, Chair, California Power of Democracy Steering Committee, Co-Chair San Diego Civic Learning Partnership; Haney Hong, President & CEO, San Diego County Taxpayers Association; Elizabeth Ashford, USC Schwarzenegger Institute for State & Global Policy;Noelle Norton, Ph.D., Dean, University of San Diego College of Arts and Sciences. Miranda McGowan, JD, Professor of Law, USD School of Law; Carl Luna, Ph.D., Director institute for Civil Civic Engagement; Sofia Gonzalez, President, San Diego Mesa College ICCE Club.