By account [at] lwvslo.org (Glenn Silloway)
Carrie Chapman Catt called on the suffragists who formed the League of Women Voters in 1920 to organize around a new purpose: to help newly enfranchised women make good use of their votes. She called on them "to finish the fight."
At the LWVSLO Centennial Celebration luncheon on February 22, Dr. Carolyn Jefferson-Jenkins made the Catt quotation the theme of her keynote address. Dr. Jefferson-Jenkins is especially qualified to talk on the issue because she was the first (and only) woman of color to be elected President of the League of Women Voters US. She was in office when the issues of voting rights and voter participation were already highly charged, and these issues like voter suppression and gerrymandering are now at the heart of the League's national program. We do not now have voting equality, especially since the Supreme Court's gutting of the Voting Rights Act of 1965.
The theme of her talk was about how women of color have been left behind from the very beginning of the League. League practices adapted to state and local policies such as Jim Crow laws that effectively disenfranchised minority voters in some jurisdictions. 
Look at this famous photo of suffragists marching in a fine formation to demand their voting equality rights and note that something is missing.  These women are all white. There were black women in this march too, but they were made to walk at the back.
Dr. Jefferson-Jenkins has just published a book about the role of race in the formation and history of the League of Women Voters. It shows how League policy and practice chose practicality over principle when issues of race were concerned.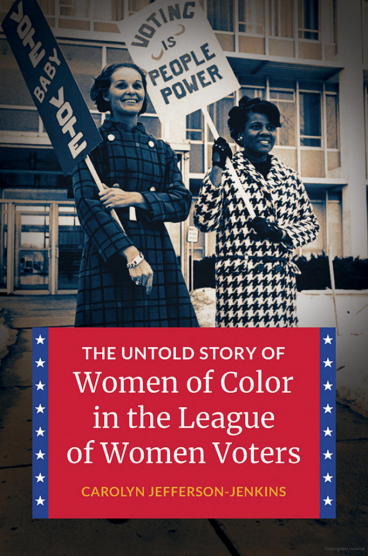 For example, when Carrie Chapman Catt was working to get states to sign on to ratify the 19th Amendment, she made the pitch to Southern states that giving women the vote would strengthen white supremacy. When the League held conventions, it often used hotels that would not serve blacks. When it came time to recognize a state or local League chapter, the decision was made based on the policy that each jurisdiction could be represented by just one League. That meant that if the local League did not allow black women to be full members, the recognized chapter was segregated. Black women responded by forming their own organizations, and they continued to cooperate with and join local Leagues if possible. But they were not fully part of the League.
Today the LWVUS is working to attract more people of color as members (since 1974, of both sexes). Dr. Jefferson-Jenkins was instrumental in starting the DEI (Diversity, Equity, and Inclusion) program of the League. Despite the effort, the League remains a disproportionately white organization. 
We have work to do.