LWV SLOCO is partnering with the Oceano Advisory Council to moderate a forum for candidates for the Oceano Community Services District. Candidate forums are intended to provide the public with an opportunity to learn about the candidates and their views on the issues. 







Submit Your Questions
The deadline to submit questions is Tuesday, September 29, at 5:00 pm.
Community members are encouraged to submit their questions for the candidates in advance of the forum. Questions should be on the issues and applicable to all candidates. Send your questions to info [at] lwvslo.org.  Include "Oceano CSD Forum" on the subject line of your email.  

To View Live on September 29 from 6:00 to 7:30pm
Click the button above to access the livestream. At the top of that webpage, directly beneath Next Live Local Meeting, look for the blue panel shown below. Click "LIVE Webcast with Agenda" or "Live Audio-Only Webcast" (according to your preference) to watch or listen live.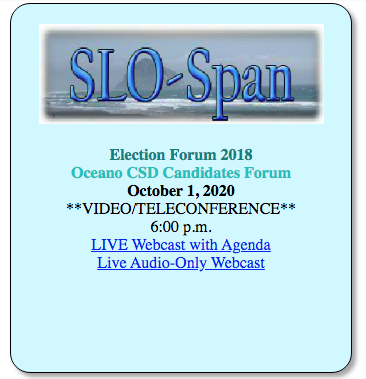 The League neither supports nor opposes political parties or candidates.
The League of Women Voters encourages informed and active participation in government, works to increase understanding of public policy issues, and influences public policy through education and advocacy.
The League encourages everyone to register and vote.  We urge voters to visit www.slovote.com to check their registration status, register to vote, or change their address.  When checking their registration status, voters can sign up for "Where's My Ballot" to track their ballots.
Additional Event Hosts:
Oceano Advisory, charles@varni.org, (805) 459-6698