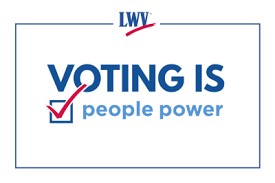 WHY DO YOU VOTE?  YOUR 30 SEC VIDEO!
The goal of this project is to Get Out the Vote (GOTV) with social media videos on LWVSB and our partners' platforms. LWVSB will record brief statements of local people to post on Facebook, Twitter and Instagram, as well as our YouTube Channel.
We plan to share one a day leading up to Election Day, to remind people why we vote.
Registering to vote is the big first step in voting. Then, actually voting is the big follow up that counts! (literally.) 
Why is voting important to YOU? Can you tell one reason why---in 30 seconds? Try it!
We are looking for people (representing our community's diversity) to film a brief video on why voting is important to them. "…I vote because…"
Voting by mail starts in early October when registered voters receive their ballots, and it continues to Election Day, Nov. 3.
If you or someone you know is willing to film or be filmed for a short video on a cell phone, contact Susan Horne, 805-962-2415 (susanhorne [at] cox.net), or Erica Schweitzer, 424-610-1781 (ericaschweitzer11 [at] gmail.com).