South San Mateo County
Atherton • East Palo Alto • Menlo Park • Portola Valley 
Redwood City • Woodside

Be Informed   •  Be Active  •  Be Democracy in Action
The League of Women Voters encourages informed and active participation in government, works to increase understanding of major public policy issues, and influences public policy through education and advocacy.  We never support or oppose candidates or political parties.
___________________________________________


Be Democracy in Action! - Join LWVSSMC Today!
________________________________
Spotlight News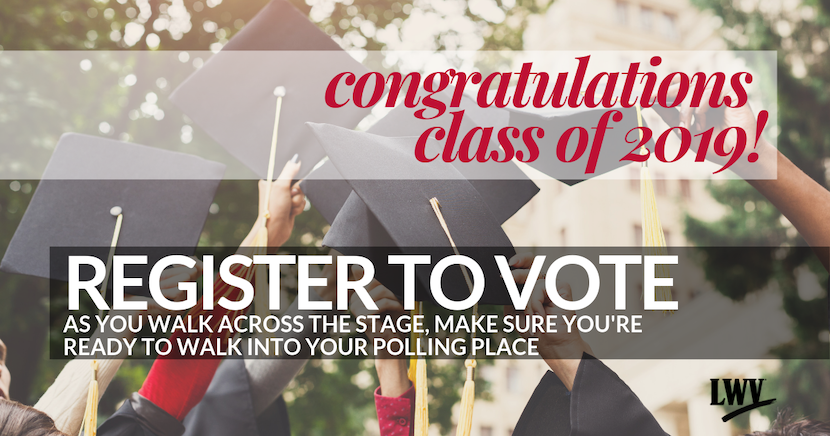 ____________________________________________________
Local League


The San Mateo County Transportation Authority (TA) is seeking input for its Strategic Planto help decide how to evaluate projects so that those of greatest merit are priorities for future funding. 
The TAwill administer 50% of Measure W, passed by voters in 2018, that will help fund these projects. 
Take the survey and say what matters to you.
Survey closes July 15, 2019
www.smcta.com/Survey. 
Learn more at the website www.smcta.com/StrategicPlan
You're also invited to attend one of these upcoming events:
Tuesday June 25 , 6:00 p.m. to 7:00 p.m.
Menlo Park Community Meeting
Menlo Park Senior Center
110 Terminal Avenue, Menlo Park
 
Thursday June 27, 6:30 p.m. to 7:30 p.m.
South San Francisco Community Meeting
Municipal Services Building (Council Chambers)
33 Arroyo Drive, South San Francisco.
_______________________________________________________________
An Interview with California Assembly Member Kevin Mullin

Recently, LWVSSMC members, Joyce Shefren and Barbara Windham, along with members from the North-Central League met with California Assembly Member Kevin Mullin to ask him a few quesitons regarding current issues facing California.
Read a recap of the interview
____________________________________________
LWV California



LWV California - State Convention Recap

League delegates voted to retain current positions as follows:
Government, including campaign financing, constitution, election systems, intergovernmental relationships, public libraries, redistricting, state and local finance, and voting rights.
Natural Resources, including agriculture, air quality, energy, hazardous materials, land use, solid waste, transportation, and water.
Social Policy, including children and family issues, child care, community college system, education: pre-kindergarten through 12, housing, juvenile justice/dependency, legal aid, mental health care, and public higher education.
Delegates adopted the recommended Issues for Education and Advocacy for 2019-2021:

Making Democracy Work in California
Schools & Communities First Campaign
Climate Change
Housing and Homelessness
Criminal Justice Reform
Delegates adopted the recommended new positions by concurrence.

Criminal Justice
Electoral Process (replaces the current position on Election Systems).
Not-Recommended Program item approved by the delegates:

LWVC update of the PreK-12 Education position to include charter schools' accountability.
___________________________________________________________
Interested in Climate Change?
Join the LWV California Climate Change Task Force


As a Task Force member you can get involved at any level. 


Receive emails about climate change activities across California. 

Be part of a google group to communicate directly.

Watch webinars and/or get involved in conference calls.

Join a state-wide climate action team

Or the sky's the limit!
To get up-to-speed check out LWVC web pages.

·         Climate Change where you'll see news
·         Climate Change Task Force where you can get ideas, watch the archived webinars, see resources, and learn what is happening around California
·         Legislation to see what we're supporting, opposing or following

 __________________________________________
LWV US
LWV Wins Redistricting Litigation in Battleground States


Last week, a federal district court in Ohio ruled in favor of the League of Women Voters of Ohio, invalidating the 2011 redistricting maps. Read more about this win in the LWV press release - fair congressional district maps. The week prior, another federal district court ruled in favor of LWV Michigan by invalidating the congressional and state legislative redistricting plans in Michigan. Ultimately, both cases were egregious attempts to disenfranchise voters, but LWV is winning in court 5:1, and this is all due to the amazing work Leagues are doing across the country.
___________________________________________
Voters Protected Against Illegal Voter Purge in Texas


The League of Women Voters of Texas and other civil rights groups reached a settlement with Texas state officials last month to end the discriminatory purging of the state's voter rolls. The settled lawsuit was raised in opposition to a purge effort in January that was based on a flawed list of possible non-U.S. citizens. The purge included thousands of naturalized citizens who were eligible to vote. Read press release - Texas purge ended.
______________________________________
LWVSSMC Annual Meeting & Dinner Recap
Our Annual Meeting and Dinner was a great success! We had over 50 people attend with many of our new members participating in this important League event.
League member, Carol Jensen, presented "Why We Should Abolish the Electoral College And How to Do It" which was produced by the State and Local Leagues of Illinois. 
If you missed the presentation, you can download the PowerPoint Slide presentation
hereand read the
accompanying scriptwatch the Video.
Local Issues for Focus
Housing/Transportation

Voter Outreach
County Issues for Focus
2020 Census

Climate Change Adaptation as it impacts San Mateo County with a focus on Sea Level rise and increased Fire Risk