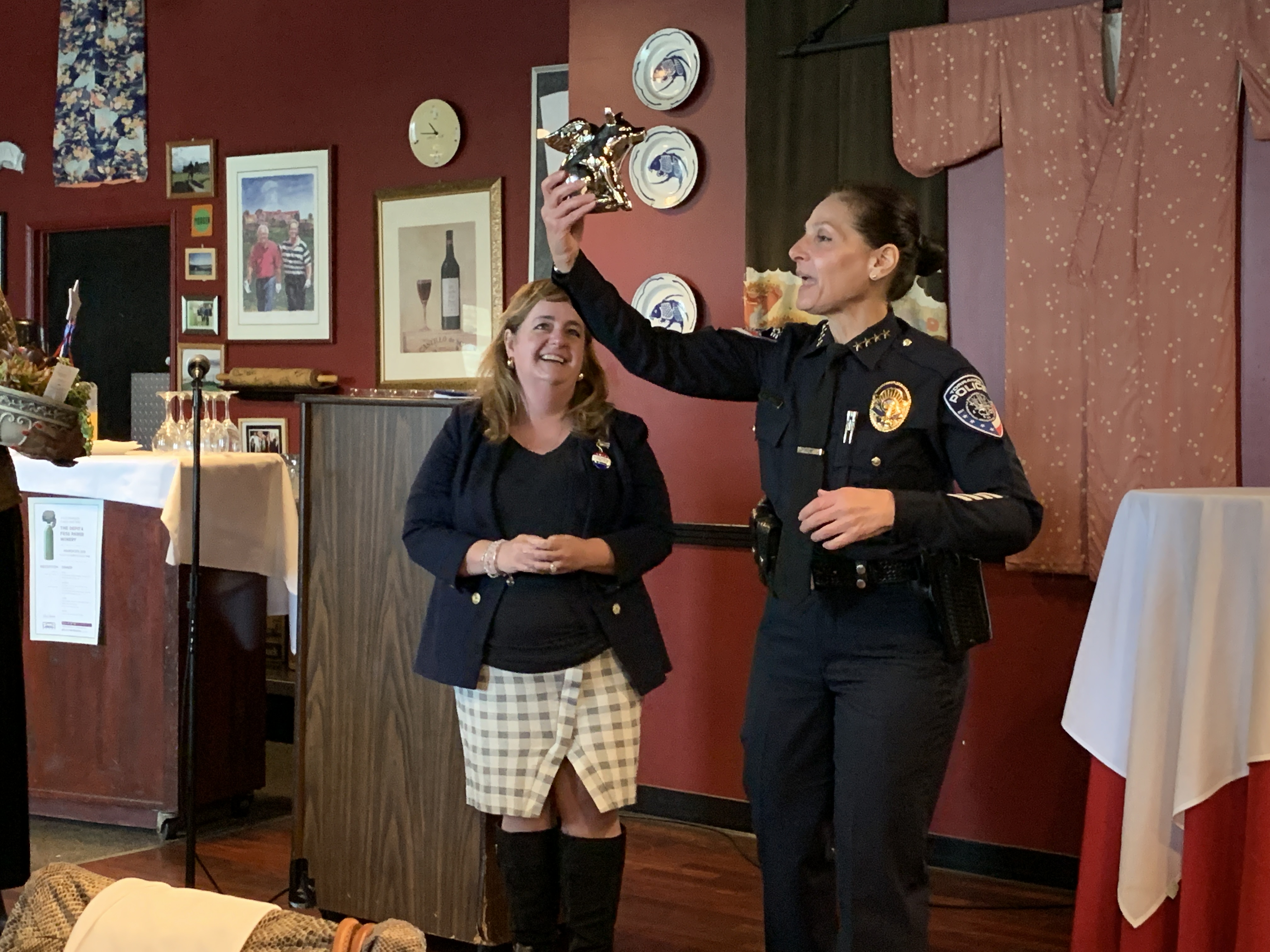 League members of the Torrance Area, Beach Cities and Palos Verdes Peninsula convened for the Spring Tri-League meeting in celebration of Women's History Month. After enjoying a Chef Shafer buffet breakfast at The Depot, attendees listened to guest speaker, Eve Irvine, the first female Chief of Police in the city of Torrance. When lauded for her achievements, she referred to the sage words of the Supreme Court's first female judge, Sandra Day O'Connor: "I always thought that while it's wonderful to be the first to do something, you don't want to be the last."
She began her  career in 1982 as a Police Cadet. She was then employed by the Inglewood Police Department in 1984 after graduating from the LASD Academy. In 2011 she was appointed Chief of Police for the Manhattan Beach Police Department. Six-and-a–half years later in January of 2018, she was appointed Chief of Police for the Torrance Police Department, the sixth largest police department in Los Angeles County with 227 officers. She gave updates on women's role in law enforcement and crime in the South Bay.
A lively speaker from New Jersey with amusing anecdotes of her thirty-seven years in law-enforcement, she recounted a time as a new officer when she was asked by her boss what her career goals were. When she answered that she aspired to be a captain, he retorted, "When pigs fly!" Years later when she became a captain, she noticed a flying pig in a toy shop and purchased it as a reminder of the ironic incident. Since then many people have gifted her with flying pigs, even the mayor who noted,"Today many pigs are flying."
Over her career she has worked a variety of assignments including undercover work as a drug buyer and a "lady of the night."  As a detective, Chief Irvine became a nationally recognized expert in the area of domestic violence and worked assignments in Sex Crimes and Child Abuse. Crimes involving children bother her the most.
It was soothing to hear that the City of Torrance is ranked 8th in the state for safety.  She enumerated many specialized details that add to the effectiveness of the Torrance Police Department: Its S.W.A.T. unit, Canine unit, Crisis Negotiators, Community Lead Officers, Automated License Readers, full-time homeless mental health technician, and awesome 12-person (called "pilots") drone program with thermal imaging technology to name a few. The TPD is known for its cutting-edge drone program.  Equipped with Infra-red cameras (FLIR) with a live feed, drones detect body heat and can locate criminals or missing persons in places that police and canines can't reach. The TPD Drone Team has aided other cities in gathering intelligence information.
Although Torrance is a safe community, Chief Irvine stressed that we need to be vigilant and make ourselves harder targets. For example, the city dealt with 118 stolen vehicles last year; however, 80-90% of thefts involving cars could be prevented if we simply lock our cars and do not leave valuables in plain sight.  Moreover, so many of our pedestrian accidents have occurred when people jaywalk and wear dark colors at night. We need to use the crosswalks.
We should be aware of scammers on the internet phishing for personal information or asking for money, such as the crooks claiming to be IRS collection agents. The IRS does not use email or the phone. Be wary of emails with spelling, syntax, or grammar errors, for many scammers come from foreign countries. Don't answer calls from strangers but make unidentified callers leave a message and verify that the caller is authentic.  It is important always to be aware of our surroundings, especially at the ATM and the gas pump. Avoid loose machines, for they might have skimmers on them that harvest your information; and avoid people distracting you after you withdraw money, like the recent flat tire scammers, who thankfully were apprehended.  "If it looks too good to be true, it probably is," says the Chief.
Throughout the presentation, Chief Irvine showed herself to be a passionate, hard-working chief who signed-up for law enforcement, in her words, "To make a difference."  The LWVTA gifted her with a lovely succulent basket and a golden pig. Pigs do fly!