At the Pasadena Women's Club, the League of Women Voters Torrance Area Board members Emma Simmons, Jill Verenkoff, Sue Herbers Pat Kromka, Pam Thornton and Gloria Guitierrez met for lunch (including those famous popovers!) and informative lectures on communication skills and the upcoming Census.
Fatima Malik, our first speaker, has had over 15 years of experience in communications. She is the current VP and former Communications Director of LWVLAC.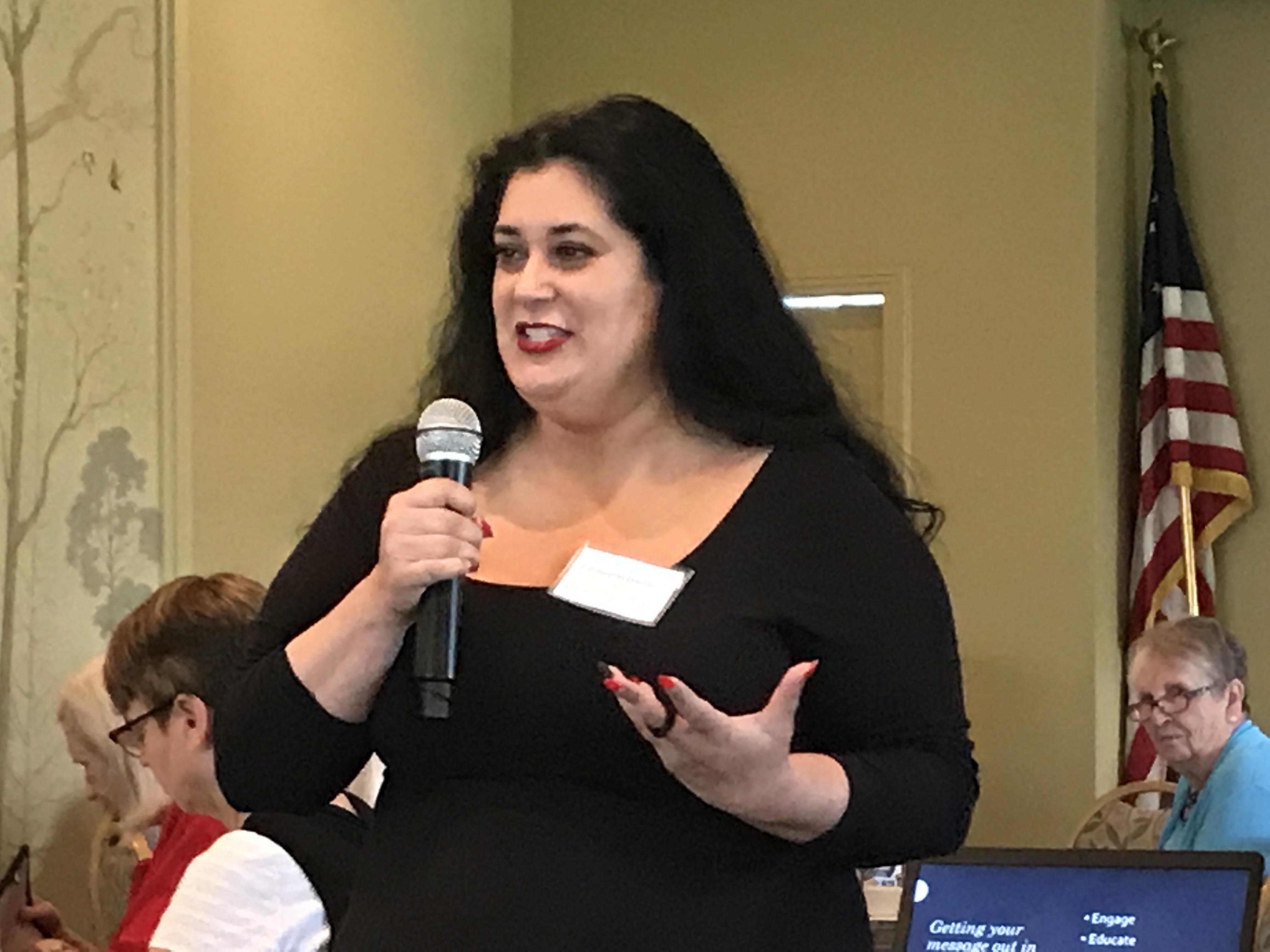 Fatima outlined numerous ways leagues can maximize their communications capacity to promote their education and advocacy campaigns. She stressed that the LWV needs to get its message out to people of all ages from different cultures, backgrounds,education levels, etc., and "engage, convene, research, educate and advocate."  How?  She provided us with effective techniques:
Be an Active Listener:  In a conversation, learn something about the other person/people before engaging in a discussion. Ask open ended questions about them in a row. Be highly focused on them. Remember their names. Everyone likes to hear their name and feel remarkable in some way. 
Be an Active Reader: Visualize; clarify the sequence & read between the lines; question everything; predict what will happen next; connect personally with what your are reading (i.e., what you have experienced, seen, heard in your own life); evaluate to form opinions.
Be an Active Writer: Write in an active voice; go for impact; use facts; be clear & concise; avoid fluff, write blogs; send articles to the editor; respond to articles online; write your representatives; write for others; send press releases;; add to local calendars; put up flyers in many locations; write captions for photos, Facebook, Instagram; send thank you, sympathy, birthday cards & reminders.
Be an Active Speaker: Work on clarity (What are you really trying to say?), confidence, insight (What motivates you? What is your WHY?
Actively Engage: Be yourself; focus on remarkability. ask for a warm introduction/team up with an extrovert; you don't have to speak all the time. Well placed insight can be far more interesting.
Build Your Brand: Communicate; be accurate & knowledgeable; get reviews; stay current on trends & events; be an information portal; support other like-minded brands; be an influencer on social media (e.g., Instagram, Twitter, Pinterest, Facebook).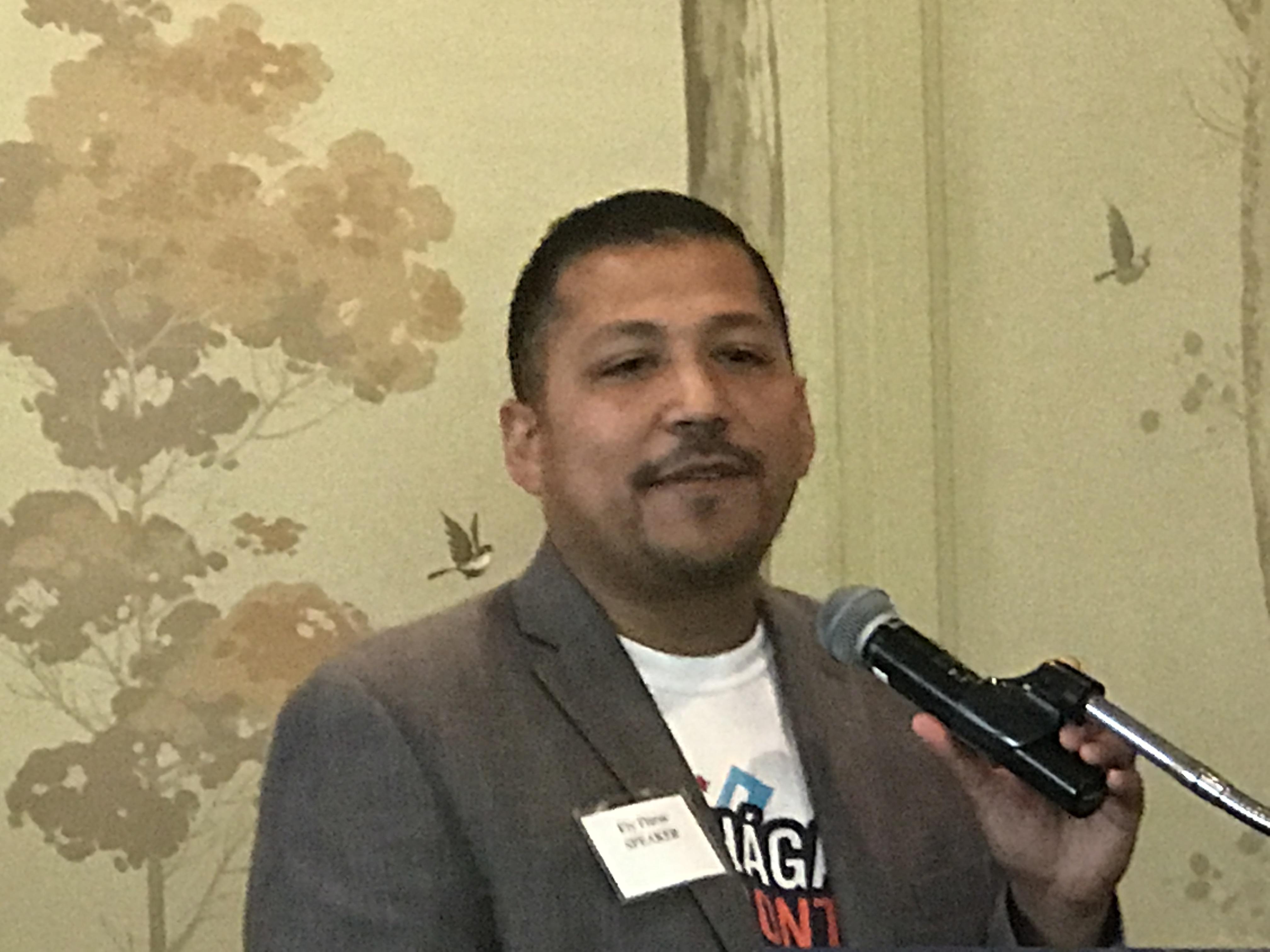 Our second speaker, the Census campaign Manager of the National Association of Latino Elected and Appointed Officials (NALEO), Giovany Hernandez, presented us with the current state of the Census form, funding and outreach. NALEO is a non-partisan group with a 15-member bi-partisan board. It is "the nation's leading 501(c)(3) non-profit organization that facilitates full Latino participation in the American political process, from citizenship to public service." He highlighted the ways in which local Leagues can develop their own outreach plans or partner with others to ensure undercounted communities are counted. 
Mandated by the 14th Amendment, the goal of the Census is to count every person, not just every citizen, in the country on April 1st every 10 years. Important programs, such as Medicaid, Medicare, and political representation are tied to the Census. Unfortunately, many undercounted populations exist - especially in the African-American, Latino, Native American and low income communities.  Undercounting short changes the federal funds streaming into each state and the congressional seats a district might truly merit.
Although California receives the highest amount of Census guided Federal funds, in 2010 we had a drastic undercounting of children, mostly from Latino families. Many of their parents forgot to count their children or were reluctant to respond to the Census. President's Trump support of a citizenship question on the Census (which has been abandonned) has furthered this reluctance because some people fear that their personal information will be passed on to other agencies. Another concern of the State is that since 2010 California has not gained a congressional seat. In fact, it is in jeopardy of losing seats because of undercounting. Hernandez claims that for the first time in American history, we have an administration that is thwarting an accurate count.
The immediate goal of NALEO is to convince people of the importance of responding and to assuage their fear that the info will be used against them.  Their info is safe, for under Title 13 of the US Code, Census data can only be used for statistical purposes; personal info cannot be used against respondents in court or by a government agency. NALEO's adult campaign, ¡Hagase Contar! (Make yourself count), and children's campaign, ¡Hazme Contar! (make me count), will be sent through trusted messengers such as family, teachers, health care providers and outreach programs. The League of Women Voters can help by stressing the importance of being counted and asking local politicians, especially in candidate forums, what they are doing to maximize the count of people in their district. 
The 2020 Census has some changes. It has reduced the number of local census offices, field staff and field"presence" and added an internet response option. It will use administrative records and other third-party data for address canvassing and non-response follow-up. It has redesigned questions on race and Hispanic origin. The new two-question format on race and Hispanic origin, however, is confusing and raises some questions on how to respond when a respondent has parents of different Hispanic origins. Only one Latino national origin will be reported by Census Bureau regardless of how respondent answers. It is unclear how Latinos will respond to detailed reporting of White and Black sub-group identifications, and Afro-Caribbean examples are not included in Black/African American question.
NALEO focus group participants had a generally positive view of the Census; but when they saw a version of the actual questionnaire, hesitation, fear, and a lack of confidence arose. Survey respondents overwhelmingly expressed a preference to complete the Census by mail on a paper form  (75 cents). Messages about Census participation being "Convenient, Safe and Required" showed the most positive response in the survey. Messages about the role of Census data in providing funding for local schools and community programs were the most effective in the focus groups. Promoting a complete and accurate Census is central to NALEO Educational Fund's mission.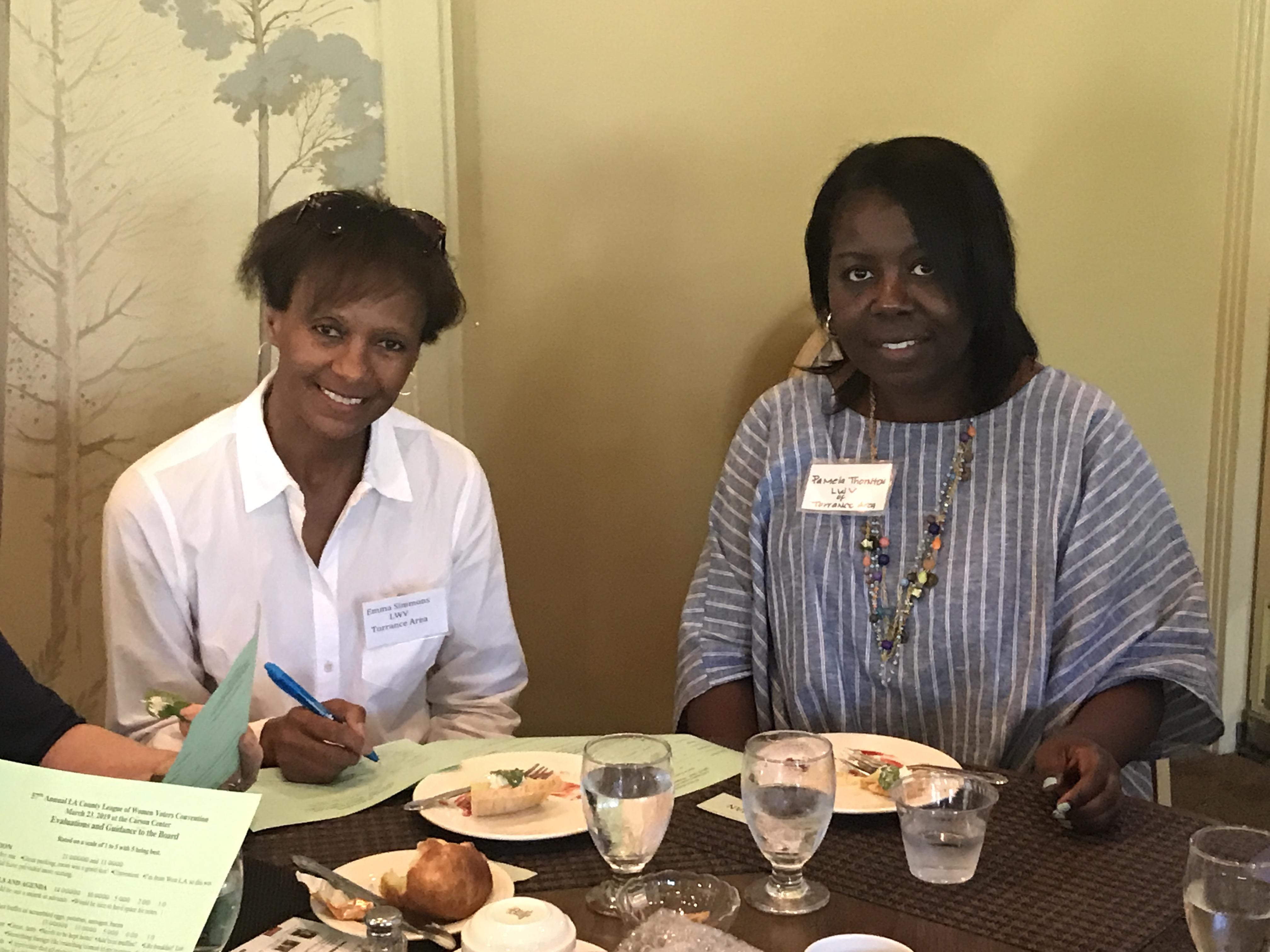 Emma Simmons, Director at-large/Special Projects, and Pam Thornton, President of LWVTA, enjoying those popovers!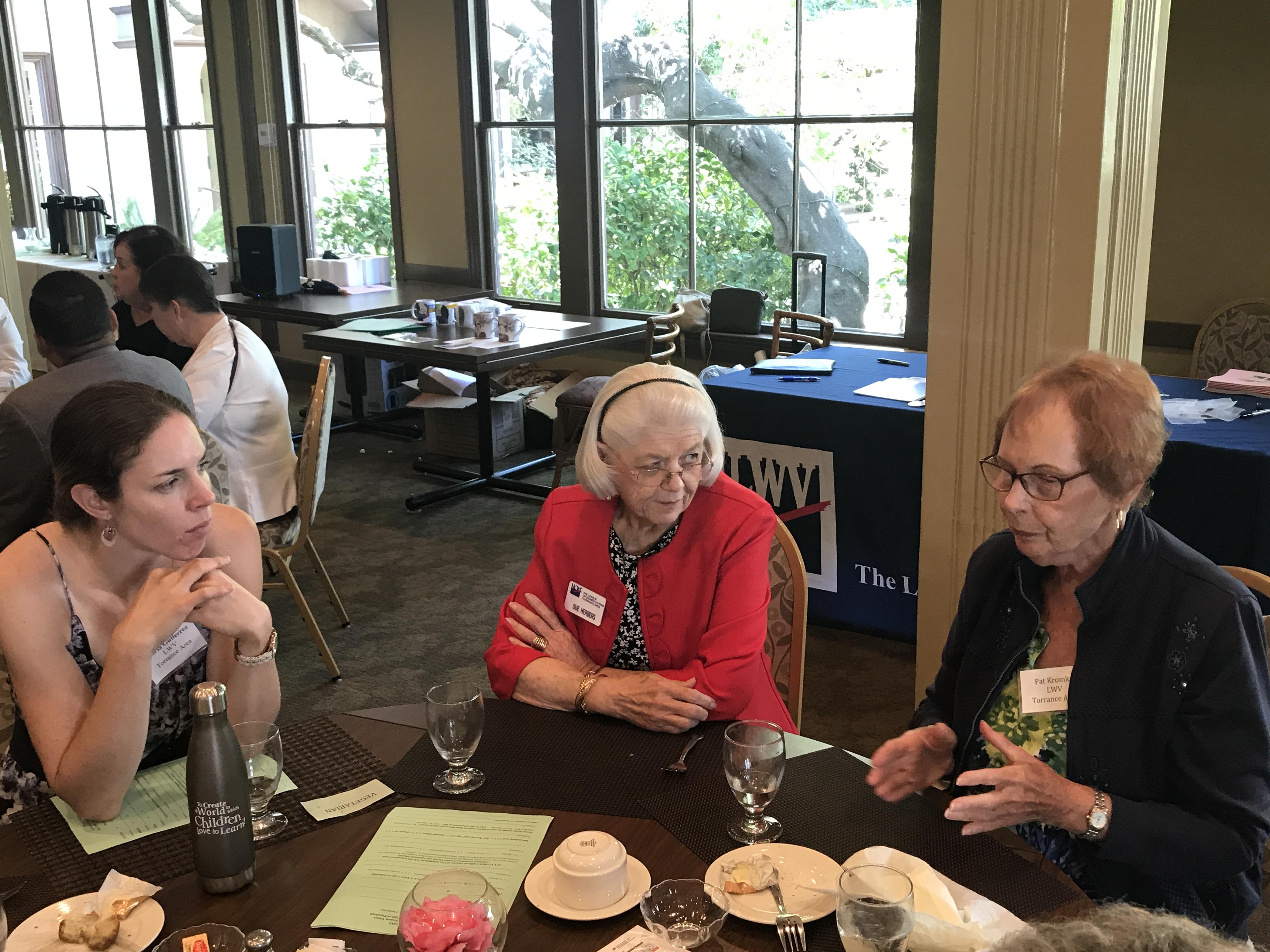 More of our Torrance Area league members: Gloria Guitierrez, Secretary and Director of Natural Resources; Sue Herbers, LWV Liaison; and Pat Kromka, Vice President