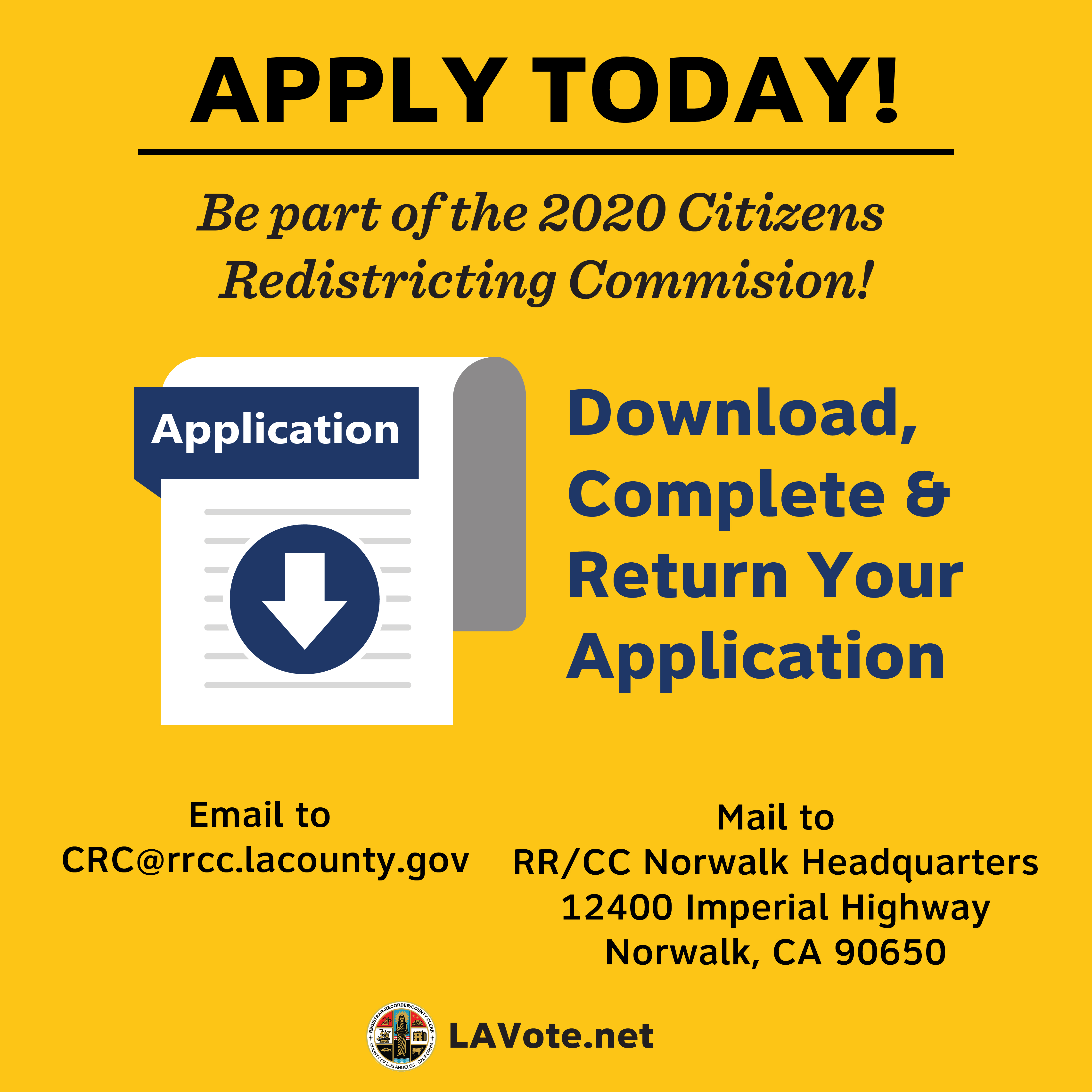 The LA County Registrar-Recorder/County Clerk has opened the 2020 Citizens Redistricting Commission (CRC) application period. Every 10 years following the federal census, the boundaries of supervisorial districts within the County shall be adjusted so that each district is as nearly equal in population considering topography, geography, cohesiveness, contiguity, integrity and compactness of territory, as well as communities of interest of the districts. As a result of passage of Senate Bill 958, LA County must form an independent redistricting commission by December 31, 2020, and in every year following the decennial federal census. The CRC shall adjust the boundary line of the supervisorial districts.
In addition to an extensive media and outreach campaign specific to the CRC, the Department is reaching out to partner cities, elected official offices, organizations and other stakeholders to collaborate in promoting. It is our intention to reach as wide and diverse population as possible in order to create a Commission that is representative of the County's diversity. Any LA County resident who is a registered voter and meets the eligibility criteria is encouraged to apply online or by returning a paper application. Application instructions, eligibility and additional information can be found on the
Citizens Redistricting Commission landing page
. Please note, all applications must be received by August 31, 2020.
Furthermore, attached to this email are some sample social media posts that may help with promotion. Should new promotional materials become available, we will forward. For any questions, please contact Jeff Klein at
jklein

[at]

rrcc.lacounty.gov
or Latoya Johnson-Mosley at
ljohnson-mosley

[at]

rrcc.lacounty.gov
. Thank you for your partnership.
Jeff Klein
Manager of Civic Engagement, Community Relations & Legislation
Los Angeles County Registrar-Recorder/County Clerk
562-462-2992 office
310-770-1679 mobile
jklein

[at]

rrcc.lacounty.gov

()