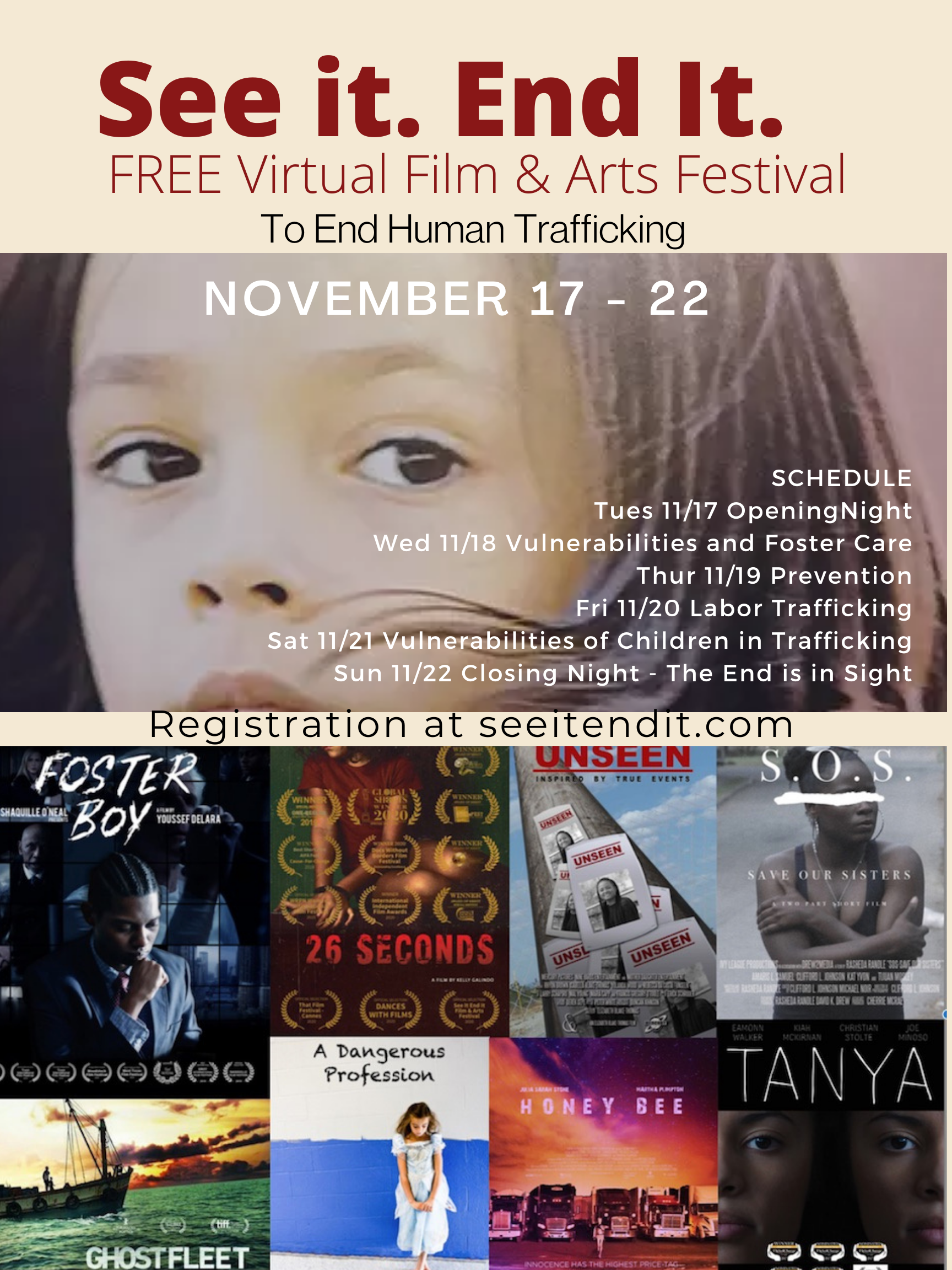 Tuesday, November 17, 2020 (All day)

to

Sunday, November 22, 2020 (All day)
See it. End it. is a new global media, arts, and social platform, to educate, inspire, and mobilize global audiences to end human trafficking. Join us in November 2020, as we launch our online Film and Arts Festival.
See it. End it. weaves educational and artistic expression together to raise awareness and inspire communities to take action against human exploitation. We are gathering passionate people — award-winning artists, filmmakers, musicians, celebrities, nonprofits, politicians, corporations, citizens, trafficking survivors — who want to PREVENT and ELIMINATE Human Trafficking on a global scale.
The festival is a 6-day event. Each day features films, panels, musical performances, keynotes, artists and influencer messages, themed around different aspects of Human Trafficking, both domestically and internationally.
General Schedule of Events:
11.17.20 Opening night
11.18.20 Vulnerabilities and Foster Care
11.19.20 Prevention
11.20.20 Labor Trafficking
11.21.20 Vulnerabilities of Children in Trafficking
11.22.20 Closing Night - The End is in Sight
Register now to receive your complimentary pass.
We are accepting donations. Donations help us to continue this fight against Human Trafficking.  Ways to donate:
Text to Donate – text 44321 and enter see2end
Website -  Paypal (will give you the option to pay via Paypal or Credit Card) go to seeitendit.com and select DONATE.
NOTE FROM:
Sonia Bailey
YWCA of the Harbor Area
437 W. 9th Street
San Pedro Ca 90731
Please support "See It. End It Film and Arts Festival," which is launching its virtual platform November 17 through November 22, 2020.  We are excited to bring you information, education, arts and expert discussion to end human trafficking.  The event is FREE -- please register at seeitendit.com, and on our eventbrite.  I hope you can participate in a small segment, or for the whole thing - your choice.
We have worked hard to bring this format to you to develop a local and global channel to learn and bring action to the end of human trafficking.  Thank you all for your support - this means a lot to us to protect our children and families.