Nationally, the League of Women Voters is making a major push to register voters, kicking off with National Voter Registration Day  
LWVKC has signed on to participate in the National Voter Registration Day, September 24, 2019 in Dover. Certified voter registrars are needed to staff the sites in order to register voters at the 4 sites listed below: 
Your help is needed to make this a successful voter registration year! 
The next Voter Registation training date in September 10, 2019.
Training begins at 6:30 PM at the 

Kent County Department of Elections

 at 100 Enterprise Place, Suite 5, in Dover. 

Takes a little over an hour.
You will receive certification and a manual to keep to assist you as you register voters. 
The certification is good for two years, after which time you will need a refresher course and recertification.  
Please note:
If you wish to participate in the September 24th National Voter Registration Day, you will need to attend the September 10th session.
Pre-registration is required to participate. 
If you are interested in this League activity please contact Christine Stillson, our Voter Registration administer via phone (302-697-8600) or email 

cstillson

[at]

verizon.net

. 
If you are NOT able to attend the training on September 10, but wish to take the training, please contact Christine, as well.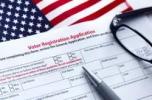 Voter Registration is an ongoing focus of the League of Women Voters 
as we encourage an informed and participant citizenry. 
Watch for more updates here and from League member, Donna Reed, who is coordinating these sites.