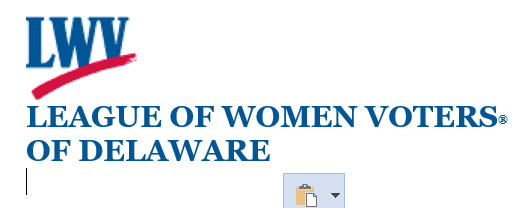 IMMEDIATE ACTION NEEDED!  CONTACT LEGISLATORS NOW TO EXPRESS YOUR SUPPORT FOR THESE BILLS!
The House is considering several bills on gun control strongly supported by LWVDE.
5/4/18 update:
from the Delaware House of Representatives e-newsletter:
"After Changes, Bill to Ban Bump Stocks and Trigger Cranks Returns to Senate
In what has become something of a legislative game of ping-pong, the House of Representatives has sent back to the Senate an altered proposal seeking to ban the sale and possession of "bump stocks" and "trigger cranks" in Delaware. 
House Bill 300, amended seven times thus far, seeks to prohibit the sale and possession of the after-market devices designed to increase the rate-of-fire of semi-automatic rifles. They are generally considered to be novelties, with no practical application in hunting, target shooting, or self-defense.
Bump stocks, in particular, gained notoriety in October when an assailant used multiple semi-automatic rifles fitted with them to kill 58 people at a outdoor concert in Las Vegas.
The House amendments added this week made several significant changes.
The first, sponsored by State Reps. Jeff Spiegelman & Danny Short, would establish a modest compensation program for devices turned in to authorities during Fiscal Year 2019 (July 1, 2018 through June 30, 2019). It would set aside an appropriation of $15,000 to provide compensation payments of $100 for each bump-stock and $15 for each trigger crank. Anyone turning in one of the banned devices could not be charged with a crime.
The lack of compensation was a point of contention for House Republicans under the original version of the bill because it violated the Fifth Amendment to the U.S. Constitution which requires the government to pay just compensation when it takes personal property.
The second change, authored by bill sponsor State Rep. Valerie Longhurst, tweaks the penalties for possession of the devices. The revision would make the first offense for possession a class A misdemeanor while subsequent offenses would be class E felonies.
In its latest incarnation, 37 of the chamber's 41 members approved the bill. Only four representatives -- two Republicans and two Democrats -- opposed its passage.
The measure is now pending consideration in the Senate for a second time."

4/13/18 update:

HB 375 was filed this week.

This Act outlaws the sale, transfer, delivery and – in some cases – possession of ammunition-feeding devices that can accept more than 10 rounds. There are more details about HB 375 n a 

 

News Journal article .

The devices would be illegal to possess in public places, such as schools, hotels and parks, but only if someone also has a firearm capable of accepting them.  People who currently own large-capacity magazines may use them on private property or shooting ranges. Shooting ranges would still be allowed to rent the devices to their clients. Police, retired law-enforcement officers and active military would be exempted from the ban.



4/3/18 update on the bills:
Please contact your legislators and urge them to support these bills. If they are listed as sponsors or co-sponsors, let them know you are contacting them on behalf of the League of Women Voters and thank them. If not listed urge them to support this bill. Do it for all those who have died, suffered injuries, or have been traumatized by gun violence.
If you don't know who your legislators are, go to http://legis.delaware.gov/. To find the email address or telephone number for your legislators, go to http://legis.delaware.gov/House or http://legis.delaware.gov/Senate. Click on your legislator's name.
Do it today! Then email us at lwvde [at] comcast.net to let us know of their responses.
Questions: Email sandyspence [at] gmail.com.
The Delaware Coalition Against Gun Violence has set up a "We Stand with the Majority: Pass Laws to Prevent Gun Violence Now" Move on petition addressed to Delaware's legislators.  This one makes sense since its Delawareans signing the petition. Let's all sign it and maybe sheer numbers will get the attention of some of our lawmakers.  Move on petition for Delaware