Sussex County club hosts representative from soon-to-be national memorial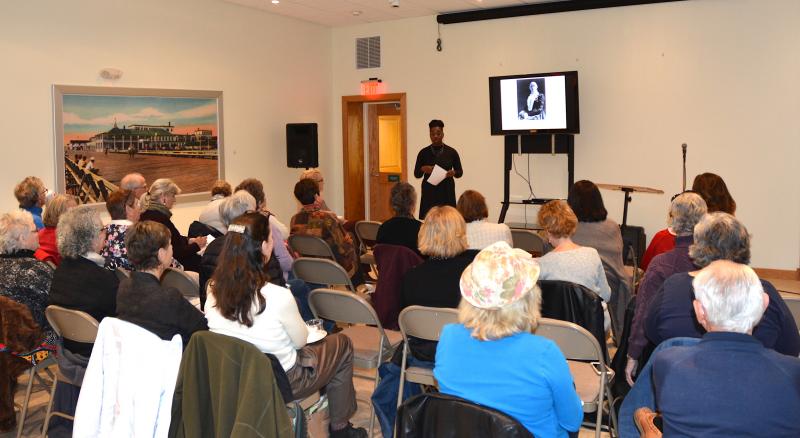 Cape Gazette, 11/26/18
Article and photo by Chris Flood
The suffragist movement worked for decades in the late 1800s and early 1900s to win the right to vote for American women.
Nearly 100 years after women finally won their voting rights, the Turning Point Suffragist Memorial Association has been formed to raise funds to build a national memorial to honor the suffragists.
The League of Women Voters Sussex County held its semiannual meeting Nov. 16 at Rehoboth Beach Museum and hosted Stacie Burton, the association's Delaware representative, who is traveling the state to raise awareness and money for the memorial.
"A lot of people aren't even aware this exists," said Burton to a group of mostly women who were very aware of the memorial and the movement that preceded it.
Burton began her presentation with the hardships suffragists faced – arrest, imprisonment, beatings, forced work, rat-infested cells, bug-ridden mattresses and food with maggots.
"Their crime? Silently picketing in front of the White House," she said.
Burton also discussed the Woman Suffrage Parade, which took place March 3, 1913, in Washington, D.C. In many ways, it was similar to the more recent Women's March, she said.
Burton described several women who led the suffragist movement, including Mary Ann Shadd Cary, an anti-slavery activist, journalist, publisher, teacher and lawyer from Wilmington.
Burton said she got involved with the association because she felt it was something she needed to do.
"I'm not a historian. I felt ashamed I didn't know the history of women in our country better," she said. "I needed to know. I'm like a sponge right now."
The Turning Point Suffragist Memorial will be located in Northern Virginia's Occoquan Regional Park, which is part of the historic prison where the suffragists were incarcerated. When complete, visitors to the memorial, about 20 miles south of Washington, D.C., will enter through replica White House gates into the Turning Point Plaza Rotunda.
The association plans to raise $2 million so the memorial can open by 2020, the 100th anniversary of the ratification of the 19th Amendment, which granted all American women the right to vote.
For more information on the memorial call 703-201-3171, email turningpoint@suffragistmemorial.org or go to suffragistmemorial.org.
For more information on the League of Women Voters Sussex County call 302-827-2299 or email sussexlwv@gmail.com.
The Cape Gazette article can be found here.